News article category
Project
Keller delivers a successful design-build project for D.C. United's new soccer stadium – setting an impressive world-record along the way.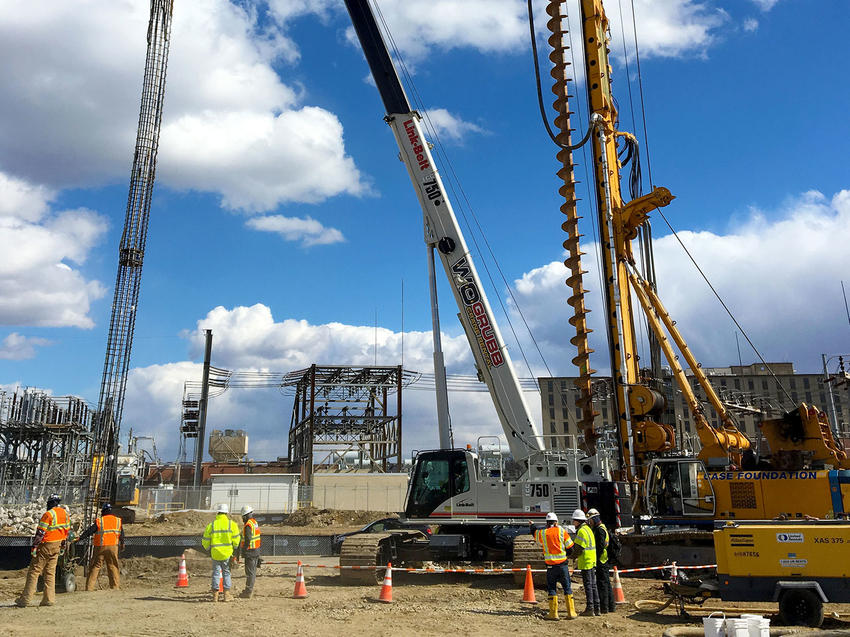 Once it opens, supporters of D.C. United – the most decorated team in U.S. Major League Soccer history – will have a state-of-the-art new home. The stadium, Audi Field in southwest Washington D.C., will have a 20,000-seat capacity, with the ability to host concerts and major cultural events in addition to soccer games.
After pursuing the project and discussing with the client's team the most effective foundation design for the stadium, Keller was awarded the project by general contractor Turner Construction in February 2017.
By the end of February, the team had installed test piles, with full production starting a month later. Over the next four months, they constructed 47 auger cast piles with 48-inch diameters to a maximum of 100ft deep, 160 with 36-inch diameters to a max of 75ft and 95 with 18-inch diameter to a max of 70ft.
The clock's ticking
"Ground conditions were relatively easy, with soft soils in the upper portion and the piles embedded in the Potomac foundation, which is a dense silt and clay," explains Keller Project Manager Nicholas Feldt. "There was really nothing too challenging in terms of the drilling.
"But as with any project like this, the real challenge is the schedule. D.C. United needed the stadium ready on time, so the schedule is always one of the most important elements – everything's moving at a hundred miles an hour. There's a clock in the office counting down and when it hits zero the project better be done! Also, all the work had to be performed around the Washington National's [Major League Baseball] team schedule as their stadium was next door.
"For us that meant careful planning, making sure we hit our metrics in terms of production rates, and being super proactive so that each area of the stadium was ready for the construction team.
"In some areas there were contaminated soils that had to be remediated before we could move in, so we stayed on top of that, chasing it and making sure it was on schedule so it didn't hold us up."
A world record
One notable achievement during test-pile installation was what's believed to be a world record: a 48-inch auger cast pile installed to a record depth of 100ft in a single stroke. "As leaders in deep foundations, we take great pride in pushing the industry and in our achievements," says Nick. "But obviously the most important thing is doing a great job overall for our clients."
And that's what the team did, finishing on schedule and even saving the client money on their original design. "What we brought to the table was the ability to create a design that in terms of time and costs was more efficient than what the client originally had – then delivering it on time and on budget," says Nick. "We did a great job, there were no safety incidents and we demonstrated that Keller can work really well on these major, high-profile projects."