Vibro stone columns, or vibro replacement, are the construction of dense aggregate columns (stone columns) with a down-hole vibrator suspended from a crane or specially built rig.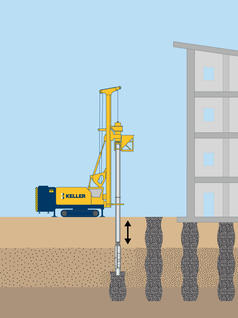 Common uses
Increase bearing capacity
Process
The vibro replacement process densifies granular soils and reinforces all soils. Vibro replacement stone columns are constructed with either the dry bottom-feed or wet top-feed processes.
The dry bottom-feed process feeds stone to the vibrator tip through an attached feed pipe. Pre-drilling dense strata at the column location may require the vibrator to penetrate to the design depth. This construction method creates a high-modulus stone column that reinforces the treatment zone and densifies surrounding granular soils.
In the wet top-feed process, the vibrator penetrates to the design depth using the vibrator's weight and vibrations and water jets in the tip. The stone (crushed stone or recycled concrete) is then added at the ground surface to the annular space around the vibrator created by the jetting water. The stone falls through the space to the vibrator tip and fills the void created as the vibrator is lifted several feet. The vibrator is lowered, densifying and displacing the underlying stone. The vibro replacement process is repeated in lifts until a dense stone column is constructed to the ground surface.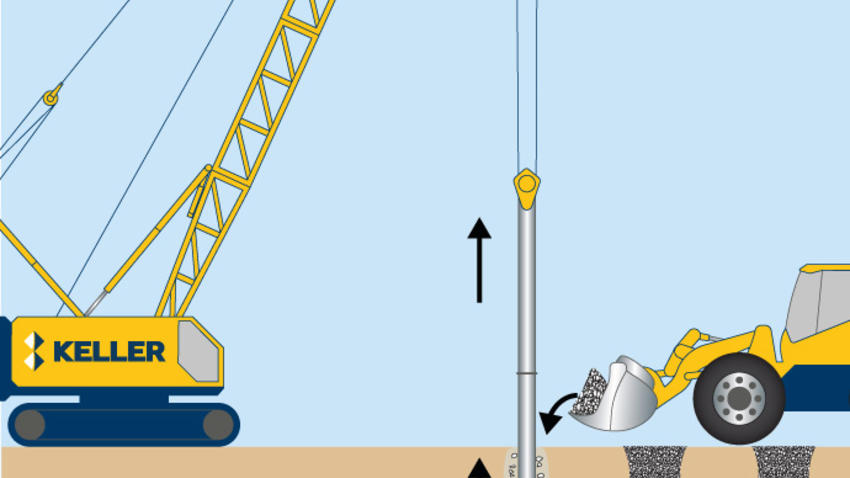 Advantages
Stone columns can be arranged to suit varying combinations of loads, soil types, and performance requirements
Quality assurance
Vibro replacement rigs can be fully instrumented with an onboard Data Acquisition (DAQ) system to monitor specific parameters. Data from the system, such as amperage and lift rate, are recorded and displayed in real time alongside specified target values on an in-cab monitor. Monitoring allows the operator to correct any deviations in real time during the construction process to keep the stone column within project specifications.