We want every person who works for us, or with us, to go home safely at the end of each day.

To achieve this, we are committed to effective HSE leadership and management, continually developing a positive ​safety ethos of understanding, transparency and learning, and the promotion of healthy behaviors to help avoid illness or injury arising from people's work or lifestyle.
Everyone's responsibility
We understand that safety is everyone's responsibility. We make sure all employees, contractors, and third parties are properly trained and feel confident to challenge and report unsafe practices. It is only by working together and recognizing that we all have a part to play that we will really make a difference.
All incidents are preventable
We believe that all injuries and occupational illnesses are preventable.
No repeat occurrences
We constantly seek to eliminate the causes of accidents and risks, learning from every incident so it never happens again.
Safety standards
We always make sure we have the right health and safety standards and procedures in place, along with the right tools and equipment.
Authority to stop work
We all have a responsibility to speak up when we see unsafe activity and everyone has the authority to stop work until it is safe, without the risk of repercussions.
Safety leadership
Our managers and supervisors are accountable for the safety of our people and are expected to provide effective leadership in safety.
Case study
Keller's first Global Safety Week
Keller's divisions and business units have held their own safety days or weeks in the past. Based on their success, and to have even more impact, in 2022, we involved everyone this year in our first-ever Global Safety Week.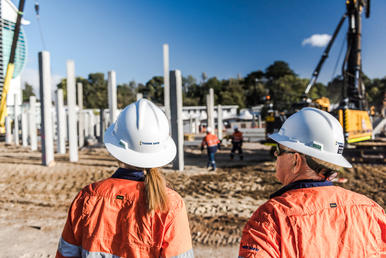 The week was a chance to recognize the efforts to keep us injury free and encourage everyone to continue to work together to get people home safely, every day.
Throughout the week, leaders did more than 350 site visits to thank teams personally for their contributions and encourage everyone to continue to play their part in keeping teams safe.
Site teams took part in toolbox talks focused on our Stop Work Authority - the right of anyone to stop work if they believe something is unsafe - and health and wellbeing.
We also recognized and, via videos, celebrated our safety champions; the people that take that extra step to support safety, regardless of the job they do.
In all, 95% of employees said the week increased awareness of safety generally, and understanding of Stop Work Authority in particular.
It doesn't matter who we are, where we work, or what we do, we all have a responsibility to stop work when things don't feel right. Safety Week was a great opportunity for us to reinforce that."

Group HSEQ Director