Keller completed the first large-scale polymer slurry drilled shaft project in Ontario using a slurry tank farm.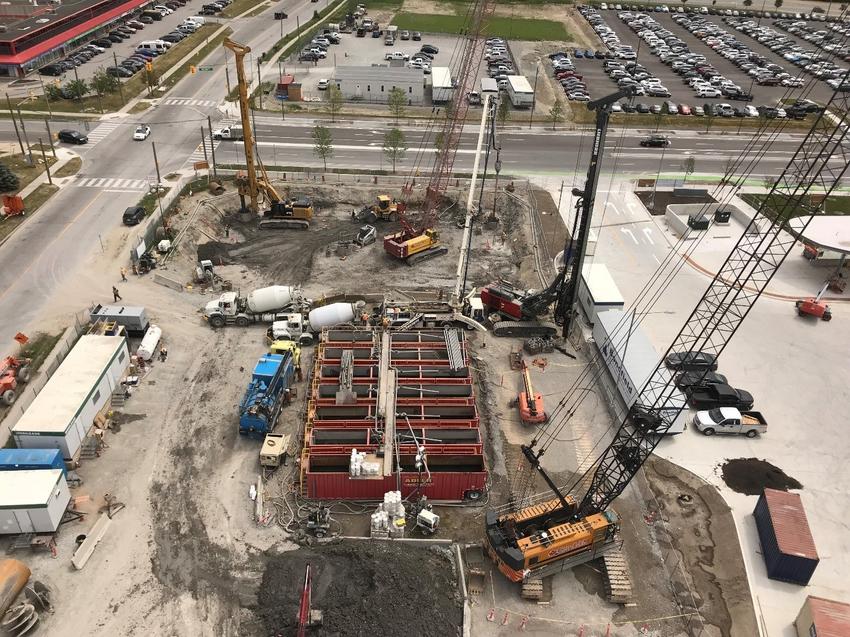 The project
Three 55-storey condominium buildings were to be built adjacent to a newly opened Toronto Transit Commission subway station. Vaughan, Ontario is known to experience underground water flow, as shown by a sinkhole that developed within 1 km of the project location.
The challenge
The adjacent subway station was constructed using a slurry cut-off wall. Site geology exhibited a relatively high water table and a heterogeneous mix of soil conditions. The groundwater conditions, difficult soil layers, high loading conditions, and installation depths all made the local practice of caisson installation impractical. Quality control was a major factor to satisfy the geotechnical engineer's Sonic Caliper testing.
The solution
Keller has extensive experience in drilling large shafts to the depths and size required on this project. Early in the project, Keller advised the client to perform an O-cell test to verify the design assumptions. The successful test verified our installation methodology and allowed the engineer to reduce the shaft diameter from 2 m to 1.676 m and to optimize caisson lengths. Keller installed drilled shafts under polymer slurry using a slurry tank farm.
Project facts
Owner(s)
Smart Centres and CentreCourt
Main contractor(s)
Multiplex Construction Canada Ltd.