Keller finalized the design, safely circumvented utility lines beneath the sidewalk alignment, and completed the foundation support in just four days, including mobilization and demobilization.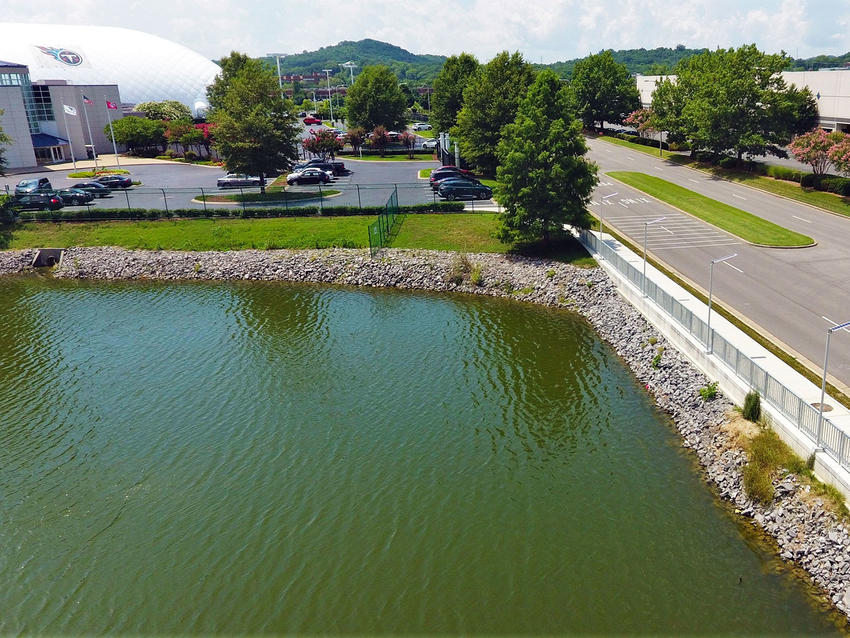 The project
The Tennessee Titans football organization required a new sidewalk and path alongside a lake to connect the existing practice facility with new office space in an annex across the street. The required width of new concrete pavement would extend beyond the top of the steeply sloping, rock-covered lake embankment. Very soft clayey saturated subsurface soils extended to a depth of 40+ ft below the rock fill.
The challenge
The alignment of the sidewalk was underlain by utilities and squeezed between the embankment and a four-lane divided roadway, limiting the options for support of the subsurface soils. Excavation of the rock fill to enable the construction of a retaining wall was discounted since this would require a lengthy and complicated permitting process and a stringent degree of water safety during sidewalk construction.
The solution
Following a detailed utility identification process at each location, Keller installed a series of vertical and slightly battered helical piles to a depth of 40 ft to accommodate the outboard loads and prevent sliding. Each pile was designed for a maximum capacity of 25 kips. Keller worked with the general contractor to finalize the design and construction of the piles. Post-construction inspections indicated the new concrete path performed well under repeated golf cart and pedestrian traffic with the piles effectively resisting lateral loads.
Project facts
Engineer(s)
Terra Nova Engineering, PLLC
Engineered Solutions, Inc.
James + Associates Engineers and Planners, Inc.