Eight Corvettes were swallowed when a three-story deep sinkhole opened up directly beneath the National Corvette Museum. Our team mobilized within hours to provide solutions.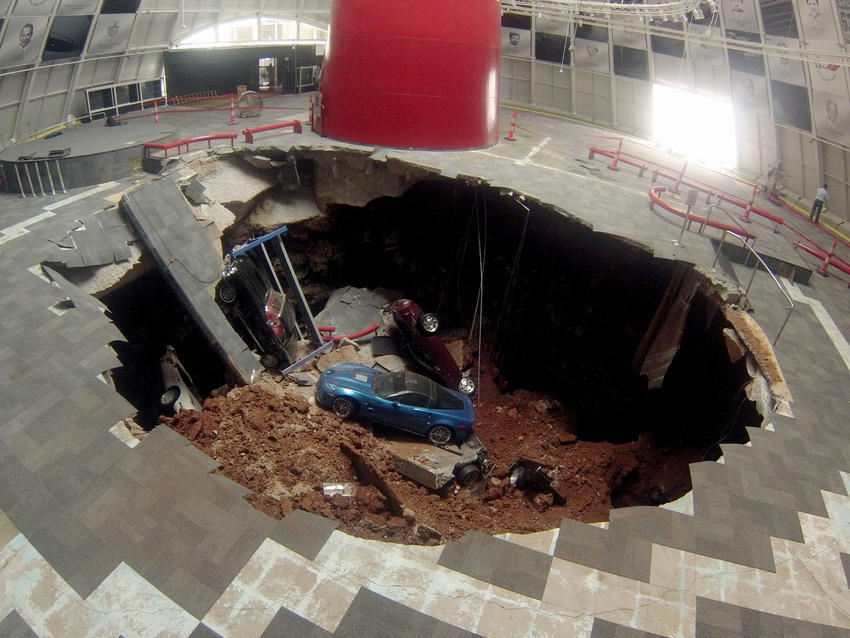 The project
A sinkhole at least 40-foot wide by 60-foot long and at least 35-foot deep opened directly beneath the National Corvette Museum's Skydome in February 2014. The Corvette Museum Skydome houses some of the most historic vehicles in the museum.
The challenge
Collapsing of the bedrock roof above a prehistoric cave resulted in the catastrophic failure of the floor of the museum. The resulting sinkhole swallowed eight collector-edition Corvettes. The variable, highly karstic subsurface conditions proved challenging for the entire construction team.
The solution
Keller was called within hours of the collapse and had materials and manpower on-site within days. 
With collaboration from all team members, Keller developed an efficient micropile design solution to safely stabilize the structure of the signature Skydome and spire and isolated the slab and structure from the risk of future collapse. The micropiles also allowed the vehicle extraction operations and additional study of the caves to be performed safely. Micropiles were particularly suited to penetrating the underlying soil and fractured bedrock efficiently.