Keller offered an accelerated schedule and worked 10 to 12-hours, six days a week to complete the project within five weeks of mobilization.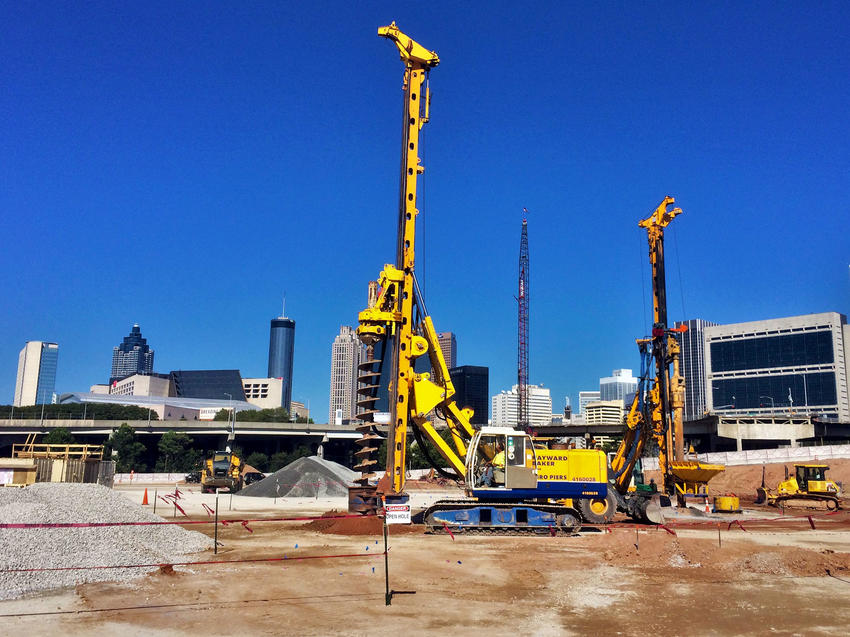 The project
The Mercedes-Benz Stadium, home of the Atlanta Falcons of the National Football League (NFL) and Atlanta United FC of Major League Soccer (MLS), replaced the now-demolished Georgia Dome in 2017.
The challenge
The soil profile within the structure footprint varied significantly across the project site and consisted of old fill containing silty sand with traces of brick, concrete, and gravel, and residual material with loose to medium dense silty sand. Partially weathered rock was encountered between 13 and 44 ft below the proposed working grade. Groundwater was encountered between 14 and 36 ft deep. A compressed construction schedule was required to meet the opening of the 2017 football season.
The solution
Keller designed and constructed 2.5-ft-diameter vibro piers to depths up to 27 ft to increase allowable soil bearing capacity to 4,000 psf at isolated column foundations and continuous wall foundations for a number of the lower stadium bowl foundations. The vibro piers were constructed by backfilling the locations in lifts with crushed stone, and raising and lowering the vibrator in 1 to 2-ft increments to compact each lift until the top elevation of each pier was reached. The vibro piers were designed to limit the total differential settlement of the supported foundations to 3/4 in. and 1/2 in., respectively.
Project facts
Owner(s)
Atlanta Falcons Stadium Company, LLC
Main contractor(s)
HHRM, JV (Holder Hunt Russell Moody)
Reeves Young
Engineer(s)
BuroHappold Engineering
Langan Engineering and Environmental Services, Inc.
Sykes Consulting, Inc.