Keller accelerated construction to complete treatment of critical sections before the impending hurricane season with potentially catastrophic high-water loading.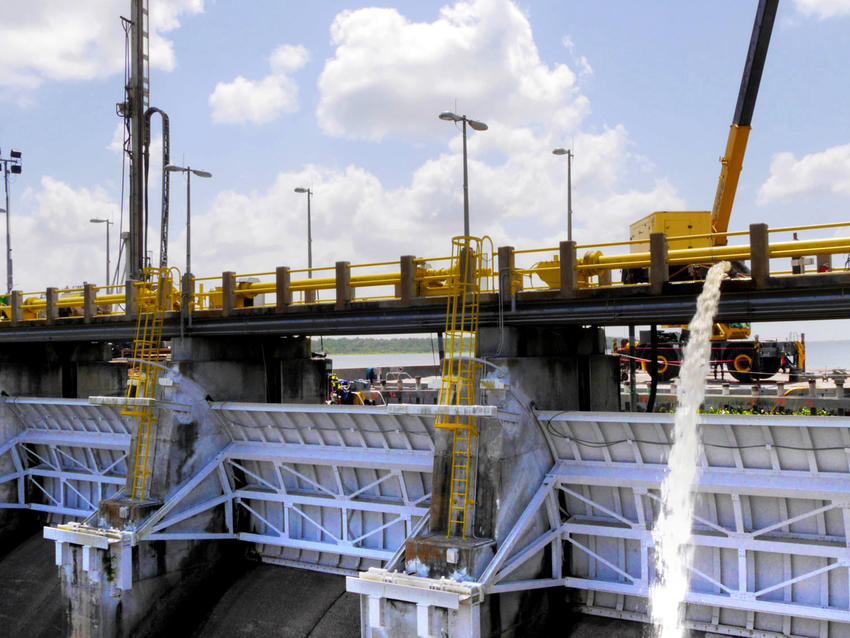 The project
Lake Manatee Dam is a 4,700-foot-long, 27-foot-high zoned earth embankment with a pervious outer shell and a central clayey core. Significant internal erosion and piping threatened uncontrolled release of the reservoir if left untreated. A 95- to 105-foot-deep cutoff wall was required through the spillway and 3,000 feet of an adjacent embankment.
The challenge
With the dam in a fragile condition, the construction process had to have minimal impact on the dam, and the most critical sections needed to be completed before the impending hurricane season. Construction of the wall beneath the spillway without damage to the concrete structure was also challenging.
The solution
From barges placed in the stilling basin, Keller cored small diameter holes through the spillway and constructed the underlying wall with overlapping 4-foot-diameter jet grout columns. A soil mix wall was efficiently constructed with the TRD method. The TRD process minimized risk to the dam since the thick, constructed in place, soil mix material would fill or choke off any erosion channels encountered.
Project facts
Owner(s)
Manatee County Government