The Elliott Bay Seawall Replacement was one of the largest global jet grouting projects performed.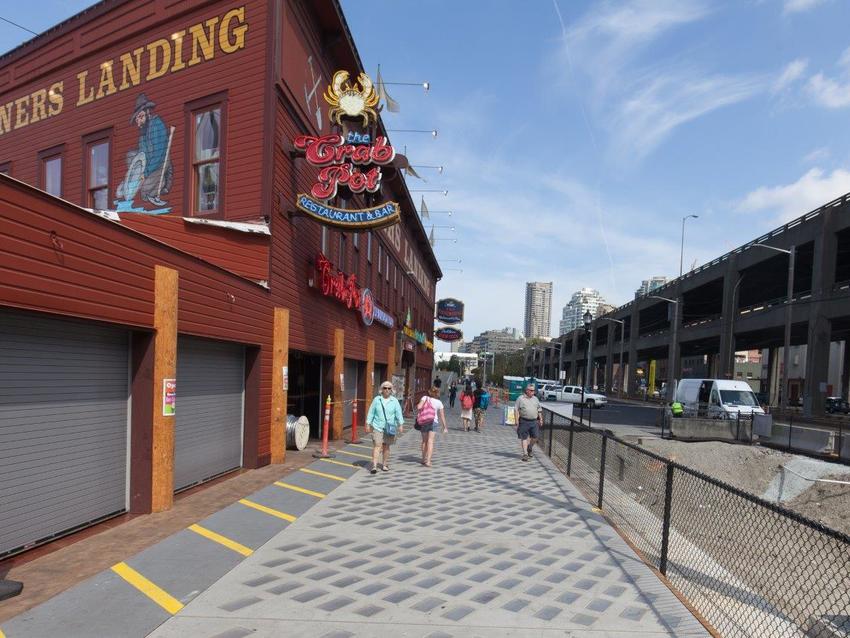 The project
To improve seismic safety, resiliency, and overall redevelopment of the downtown waterfront, 0.75 mile of existing seawall was replaced. Built between 1916-1935, the original wall included steel sheets and tens of thousands of timber piles overlain by a timber relieving platform, 13 feet below the Alaskan Way street grade. The replacement was due to the degradation of the structure, compounded by the susceptibility of underlying soils to liquefaction (emphasized by the 2001 6.8 magnitude Nisqually earthquake).
The challenge
Installation of the improved soil mass required avoidance of the vertical and battered piles located below the relieving platform, as well as avoidance and/or protection of the numerous known and unknown underground utilities. Access to waterfront businesses and safe passage of tourists, pedestrians, and vehicles had to be maintained.
The solution
5,750 jet grout columns of 3 to 6 foot diameter were installed to competent soils to depths of 40 to 90 feet. Columns were installed in an interlocking cellular pattern.
Work was safely and well done while minimizing disruptions to the public on our busy waterfront.
Resident Engineer
Project facts
Owner(s)
City of Seattle Department of Transportation
Main contractor(s)
Mortenson / Manson, A Joint Venture
Engineer(s)
Shannon & Wilson Inc.
Parsons Corp.