News article category
Project
Canada team wins Toronto Construction Association (TCA) award for their innovative efforts on Transit City Towers 4/5 project.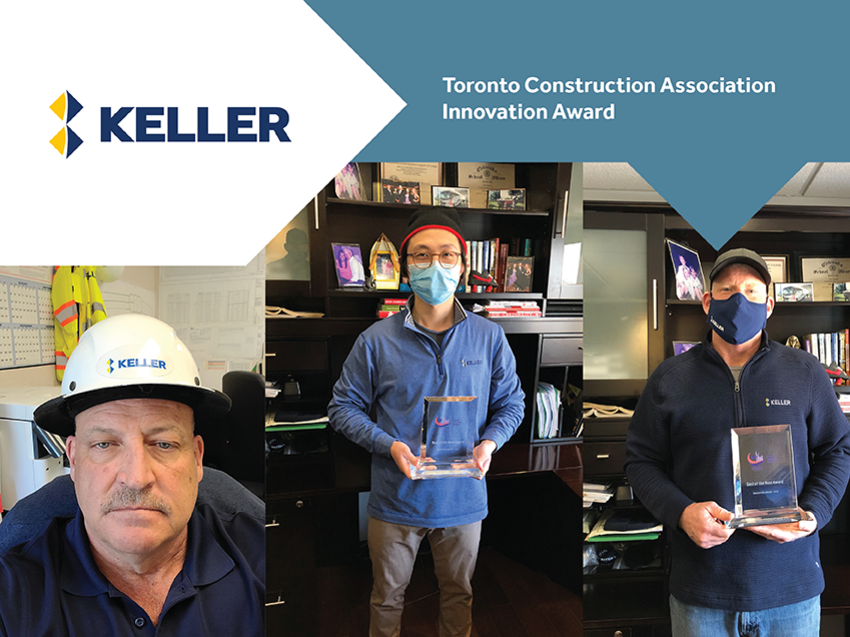 As part of the 100-acre master-planned community in Vaughan, Transit City Towers 4/5 consist of three residential high-rises, up to 50 stories tall. The three buildings were designed with three levels of underground parking, requiring a large shoring perimeter of 460m and 15m of below-grade excavation.
In Toronto, secant piles and soldier piles, and lagging are commonly used techniques for high-rise excavation shoring. However, due to the high groundwater table, traditional secant pile shoring would be difficult and inefficient.
Meeting the challenge
The design engineer proposed a diaphragm wall for the support of excavation, not only to provide a water cut-off wall and assist with the increase in load but also to decrease the overall project schedule. The diaphragm wall was also designed with permanent load-bearing elements, saving time and material required for forming the subgrade structures. Drilled shafts were also required to support the building due to the silty clay layer underneath the sand at the bottom of the excavation.
Keller was awarded both the drilled shaft and diaphragm wall construction and began work in October 2019. "To maximize construction workspace and minimize downtime, we began drilled shaft construction a month before diaphragm wall installation," recalled Project Manager Bill Li. Crews installed 243 drilled shafts to depths ranging from 30 to 48 meters.
Boulder conditions
Throughout drilled shaft construction, crews found that the fill and silt surface was underlain with silty sand, allowing Keller's diaphragm wall operation to select a more efficient hydraulic mill cutter, and having a hydraulic clamshell bucket to deal with any boulders.
However, large boulders were encountered during diaphragm wall excavation, larger than the clamshell bucket could extract. Keller sourced and fabricated a custom cylindrical rod functioning like a drop hammer. "By using the custom rod, we were able to break the large boulders into small pieces," says Bill, "This allowed us to continue construction without delay." Keller installed 14,000 square meters of diaphragm wall panels 30 meters below-grade.
Bracing innovation
To brace the shoring, Keller also installed 256 soil anchors. Due to the reinforcement details of the diaphragm wall, only one level of tieback anchors was required and able to be installed above the water table. Drilling the anchors through the wall could potentially compromise its water tightness. To avoid this, pre-assembled sleeves were fixed to the diaphragm wall cage so the anchors could be drilled through. To minimize onsite welding operations and abrasion to the wall surface, Keller created an anchor chair that can be slotted onto the pre-built sleeve.
Multi-techniques and big success
Keller completed the diaphragm wall installation in April, and anchors in June 2020. As further excavation of the below-grade levels continued, Keller's SOE system achieved all requirements. This project marked the first diaphragm wall for a residential high-rise in Toronto.
Due to Keller's innovations that kept the project running smoothly and efficiently, this project won the Toronto Contractor's Association Innovation Award for 2021.
About the Toronto Contractor's Association
The Toronto Construction Association (TCA) is one of Canada's oldest and largest associations of Industrial, Commercial, and Institutional (ICI) practitioners with over 1,800 member companies across the GTA. Since beginning as the General Builders Society in 1867, TCA has been committed to promoting and upholding the highest standards of industry professionalism. Their mission is to create opportunities for our members to grow their businesses and build connections with other ICI practitioners to help boost the growth and quality of Toronto's construction industry.