News article category
Project
The C$5.3 billion Eglinton Crosstown line is Toronto's biggest-ever light rapid transit expansion. Playing a vital role, Keller in Canada is providing technically complex supporting works on the line's largest and busiest interchange.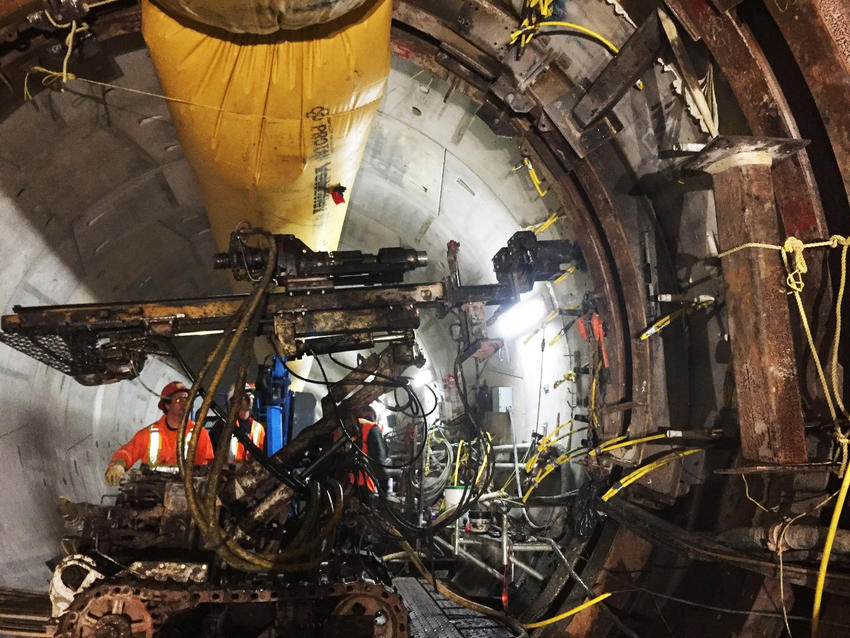 Running 19km east to west – including a 10km underground stretch – the Crosstown line will massively improve Toronto's public transportation system.
The line is set to feature around 25 stations, the largest and busiest of which will be the Eglinton interchange. It's here that our Keller Ontario office is constructing a temporary excavation support shoring wall, enabling the construction of a new subway station.
The estimated two-and-a-half-year design-and-build project was awarded by Crosslinx Transit Solutions (CTS – a partnership of four major general contractors) in 2016. The Keller team started on site in April 2017.
A challenging site
"As one of Canada's busiest intersections, this project required a well-thought-out design," says Project Manager Sean Morrisroe. "We're providing excavation support adjacent to and directly below an existing subway line [the north-south Yonge line], which is remaining in operation while we're on-site." Above ground during surface works, busy Eglinton Avenue is also staying open, with two of the four lanes closed.
The surface works include a 30m-deep secant pile wall, soldier piles and lagging, 40m-deep structural caissons, and jet grouting where utilities intersect the secant pile wall. It also includes the construction of a traffic deck to maintain vehicle flow throughout the project life-cycle.
The project is presenting numerous challenges, but the team is meeting each one head-on. Firstly, the 300m-long site, so close to a live subway, heavy road traffic, pedestrians, utilities, and overhead power lines, has required careful safety and logistical planning.
Secondly, movement criteria for the existing subway during the works are extremely stringent: less than 2mm. Keller has involved the country's premier shoring engineering firm to carry out the support of excavation design and has invested in cutting-edge deviation control monitoring devices for each of the drill rigs as well as surveying equipment to achieve the tight installation tolerances. This has enabled the piles to be placed with pinpoint accuracy, speeding up the subsequent deck construction.
A toolkit of technologies
Sean says the most difficult challenge is that the sequence of works is constantly changing, as the client continues to seek approval for different areas of the project. "That means we're having to be very adaptable and willing to change our plans at short notice," he says. "Good communication is the key. We have site team meetings every day, plus weekly management meetings to plan ahead. We also meet regularly with the client and other subcontractors so we don't impact each other's work."
Once the surface works are completed on both sides of the road, deep excavation will begin. This subsurface work includes lateral bracing and soil anchors adjacent to the existing subway line, in addition to low-headroom vertical and inclined jet grouting, shotcrete, and soil nails directly below.
Sean says it's this broad "toolkit of technologies, unrivaled by our competitors in Canada, that enabled us to win and carry out the work".
Global expertise
Being part of a global business has also been hugely advantageous. "I was on Keller's Global Engineers Program and had the chance to visit different parts of the organization," Sean says. "I made a lot of contacts, so I was able to speak to colleagues I'd met in Australia to help with the quality assurance, and in Austria and Germany to help with jet grouting; a technique that's still fairly new here. We also contacted our colleagues for advice on the instrumentation we needed to measure deviation during the installation of the secant pile wall."
Sean is delighted with how well the project is running and praised the efforts of his colleagues. "The engineering management team is extremely diverse and made up of guys from Sri Lanka, China, and Canada," he says. "I feel extremely fortunate to have the opportunity of working with such young talented engineers."
He's also pleased that the project has led to a money-saving innovation for Keller: reusable polystyrene guide wall forms that Sean says have saved "hundreds of thousands of dollars".
Last but certainly not least, Sean is particularly proud of the team's safety record. The client has given Keller the highest safety audit score among all contractors on the entire Crosstown line project for three quarters running – including two scores of 98 percent. The team received a letter of recognition and a prize from CTS praising Keller's "outstanding job" and thanking everyone for their commitment to the company's Life-Saving Rules initiative.
It's further proof, if any were needed, that when it comes to incredibly complex, high-profile projects, Keller has the expertise, flexibility, and breadth of techniques to get the job done, safely.