News article category
Project
As a highly complex project located at a sensitive site draws to a close, Business Development Executive David Finocchio tells us how Keller's varied expertise supports the transformation of one of New England's leading hospitals.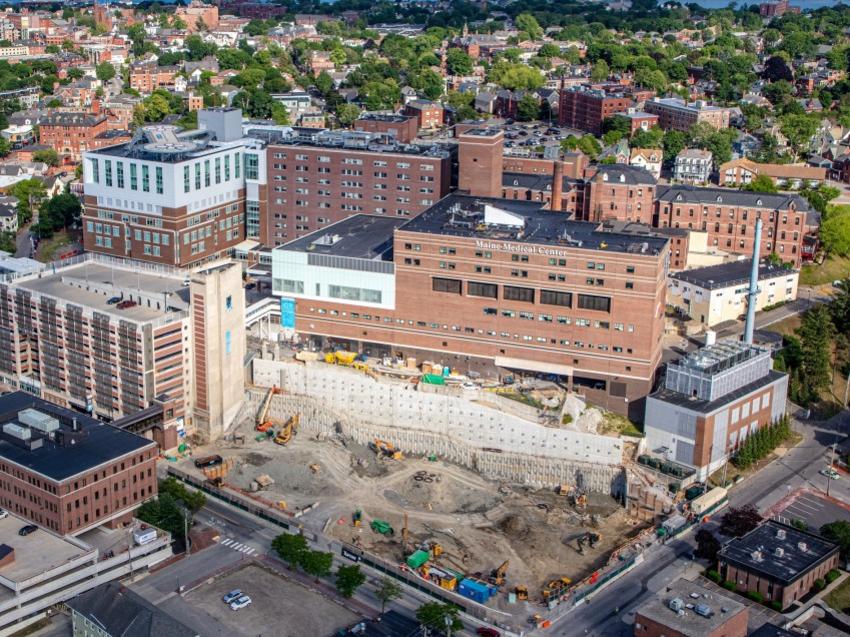 Maine Medical Center (MMC) in Portland, Maine, is northern New England's largest hospital and one of the country's leading facilities for heart care, orthopedics, and children's care.
Since 2018, MMC has been undergoing the largest modernisation project in its 150-year history, constructing new buildings to create patient rooms and state-of-the-art surgical suites. The final part of the $588 million development will see the construction of the new Malone Family Tower, a six-storey structure designed primarily for improved cardiovascular care and surgery.
The tower, scheduled for completion in 2023, will replace a 45-year-old, 11-storey parking garage. It's a complex transformation that requires careful demolition and a large excavation with a significant permanent earth retention system and other foundational and ground improvement elements.
Live-site challenges
Keller has been involved in the project from an early stage, initially providing advice to the client's design-build team. Although main contractor Turner Construction sought an alternative solution and pricing for comparison, Keller's breadth and depth of expertise in the region, and its proven track record, made the choice obvious.
"A critical element of the hospital's construction phasing and logistics plan required the existing parking garage structure be kept in use for as long as possible before its demolition," explains David. "A portion of the proposed structure was to be located within the entire existing garage footprint and nearly 30ft below the level of the existing spread footing foundations. These constraints required solutions to a significant, unbalanced earth-loading problem and an extremely challenging excavation sequence."
Further complicating matters was a utility corridor positioned between the garage and an adjacent building. This contained the hospital's fibre optic cables, meaning any movement or damage during tieback installation and subsequent excavation would have significant consequences. Much of the work happened during the height of the pandemic when MMC was under significant pressure. Additional utility surveys, subsurface exploration and 3D modelling were carried out to meticulously map out the below-grade area, making sure none of the proposed work would affect the critical utilities.
After considerable study, the design-build team's solution included incorporating a portion of the existing garage foundation wall into the temporary and final earth retention systems. This extended the in-service life of the garage for nearly a year, minimising patient and hospital worker disruption and removing the need for construction of a new foundation retaining wall.
A painstaking process
The Keller team started on site in September 2019, following an 18-month design period. Working within the busy garage, the team drilled 100-200ft long permanent anchors through the existing garage basement wall in just 8ft of garage headroom, a painstaking, multi-phase process that took about a year to complete.
Once the permanent tiebacks were installed and locked-off, the garage was demolished and the site excavated, cutting carefully to avoid disrupting the utility corridor and/or damage to the previously installed, permanent tieback elements.
Once the cut reached ground level of the former garage, an additional 30ft cut was required to reach subgrade for the proposed construction. To facilitate this additional excavation and add stiffness for lateral movement control, Keller constructed a permanently tied-back secant pile wall in front of the previously tied-back garage foundation wall. The secant piles were installed to depths of about 50-60ft.
On the other sides of the excavation, temporary earth retention consisted of a more economical drilled solider pile with lagging support, along with conventional concrete pit underpinning.
While much of the ground consisted of relatively dense glacial deposits, there were pockets of compressible clay materials not suited to mat foundation support. So, for a portion of the site, the team incorporated rigid inclusion ground improvement to improve bearing capacity for the new structure.
A project to be proud of
Working on a busy hospital campus, in an active parking garage throughout a pandemic and – at times – harsh, icy conditions, meant safety was always paramount. Careful sequencing to protect the public using the garage required diligent and constant team planning. In addition to having worked as a team for over a year prior to mobilizing, these efforts resulted in significant schedule gains.
Today, almost four years since its first involvement in pre-design, Keller is coming to the end of its project phase.
"Given the overall complexity of the job, the long schedule and demanding conditions, this has been a tremendous commercial and technical success," says David. "We've worked hand in glove with the contractor and excavator, and it has been an extremely safe and well-managed project. I'd like to recognise the excellent work of the whole team, in particular Project Manager Seamus Higgins, General Superintendent Adam Lessard and Site Superintendent James Smith. They should all be proud of their efforts."