News article category
Workplace and people
John Wolosick receives DFI's 2023 Distinguished Service Award, to be presented at the upcoming DFI Annual Conference in Seattle.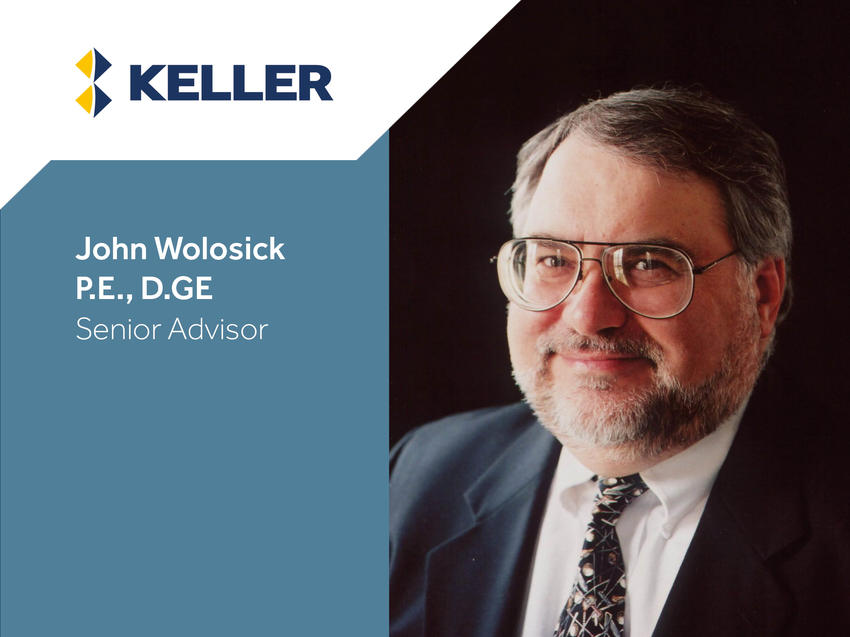 With 45 years in the industry, John is an expert in soil nailing, slope stabilization, and anchored earth retention. Before joining Keller (then Hayward Baker) in 1996, John held various roles in engineering and operations at Law Engineering Testing Company, CGC, and Nicholson Construction. With a passion for the industry and its advancement, John has published over 35 technical papers and has been involved with numerous associations and committees, including DFI, ADSC, and ASCE. In addition to the DSA, he has received several honors for his contributions, including the 2008 ASCE/Geo-Institute Martin S. Kapp Foundation Engineering Award, the 2017 Lizzi Lecture for the International Society of Micropiles, and the 2022 ASCE Geo-Institute "GeoLegend" award. John was also named the Georgia Society of Professional Engineers 'Engineer of the Year – Industry' in 2017 and was awarded the George F. Sowers Piedmont Award by the Georgia Geo-Institute in 2019. He holds a bachelor's and master's in civil engineering from the University of Illinois and is a registered Professional Engineer in over nine states. 
The Distinguished Service Award (DSA) is the Deep Foundations Institute's (DFI) highest honor bestowed to an individual. This award recognizes those who have made exceptionally valuable contributions to advancing the deep foundations industry.
"If there is one word that best describes John, it is enthusiastic. Whether it's baseball, old Porsches, or geotechnical innovations, John's enthusiasm and willingness to share his knowledge is always evident. As a technical expert, an engaging speaker, and a champion of DFI, John embodies the essence of the DSA. On behalf of DFI, I am excited to celebrate John and his service to the industry at our annual conference."
Executive Director, Deep Foundations Institute