Wood poles were to be replaced with steel monopoles on a 12-mile long transmission tie-line in the remote Eastern Foothills. This required a structural foundation system to be constructed using a helicopter for access.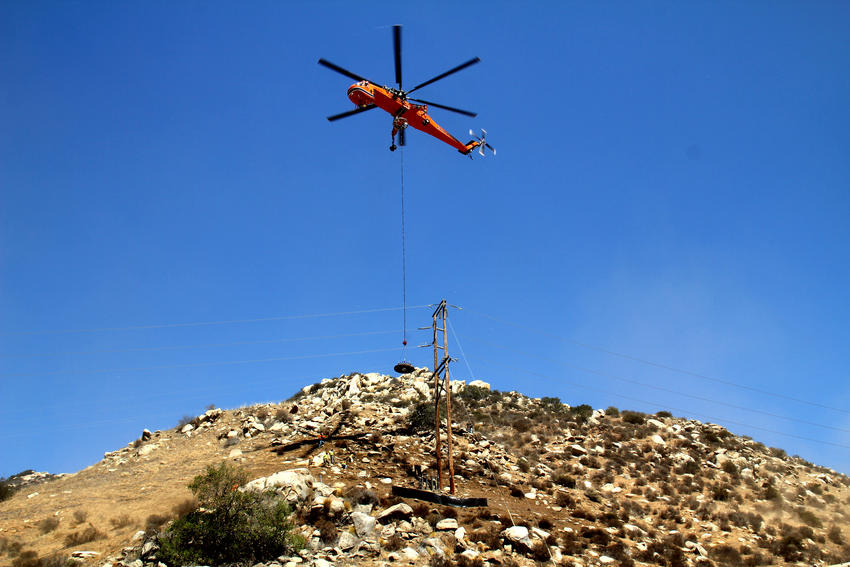 The project
TL-6914 is a 12-mile long transmission tie-line in the Eastern Foothills of San Diego. The project scope was to replace 140 wood poles for an existing 69kV transmission line with new steel monopoles. Keller contracted directly with the owner to design, manufacture, and install a structural foundation system to support 45 of these new steel poles in remote and non-accessible sites.
The challenge
The terrain in these foothills are underlain by predominately granitic rock and metamorphic rock. The project was located on a large expanse of densely vegetated and fire-prone areas with various owners including a National Forest, US Fish and Wildlife public lands, an Indian Reservation, as well as private owners.
The solution
Keller designed and built special table drilling platforms for the limited access equipment to drill from. The table platforms and drill rig had to be build so that they could be broken into individual components with weights under 3,500 pounds. Each piece had to be air-lifted by helicopter to the hillside sites and put together by the helicopter. All material was also taken to the site using helicopter access. The Keller crew worked 6 days a week, 10 hour days without any injuries or schedule delays.
Project facts
Owner(s)
San Diego Gas & Electric (SDG&E)
Engineer(s)
Trinity Geotechnical Engineering