As a previous mine pit and tailings pond, the Base Mine Lake has residual bitumen forming two mats on the lake floor. Keller designed and installed a shoring solution to create a new dock area for dredging operations for bitumen removal.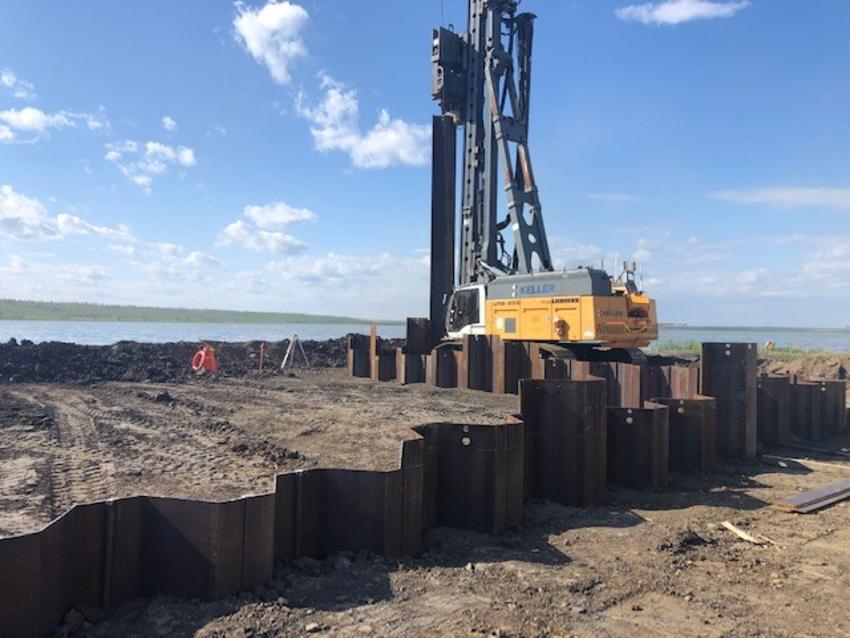 The project
The mine owner, Syncrude, planned to remove the bitumen using mechanical dredging technology. However, an unloading dock had to be built to unload dredging barges. A shoring solution was required to retain the soils from sloughing into the dredge area and increase the stability of the shoreline for dock construction.
The challenge
Heightened safety awareness was required to work on and near water and tight working areas.
The solution
The general contractor placed berms around the 50 ft by 75 ft (15m by 23m) dock area to protect equipment and crews from being able to contact the water. Test pits were dug to assess the potential of construction-related soil liquefaction. Once the site was appropriately evaluated, Keller designed and installed a cantilevered sheet pile earth retention system, using sheet piles installed to 40 ft (12m) deep from shore level. In several instances predrilling was required to allow for sheet pile penetration through hard soil layers. A continuous cap plate was installed along the top of the sheet piles enabling the boats to tie off onto the wall.