Keller was able to save two weeks on the unexpectedly fast-track deep foundation schedule by mobilizing a second drill rig to install drilled shafts.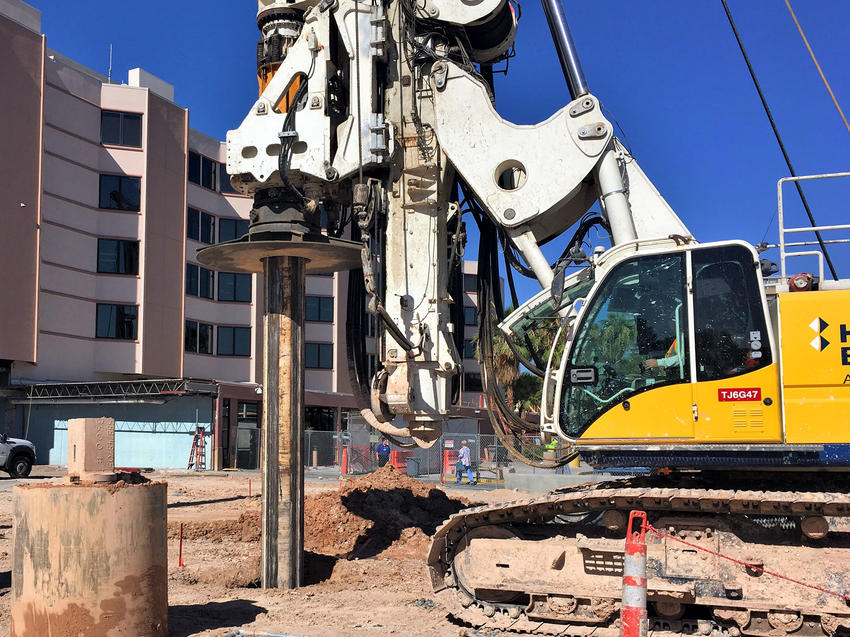 The project
Sunrise Hospital and Medical Center sits on a 30-acre campus. The owner undertook a $130 million, multi-phase expansion project to increase capacity, including the addition of a new five-story patient tower founded on drilled shafts. Soils beneath the building footprint generally consisted of approximately 10 ft of silty clayey sand over sandy clay with groundwater encountered at 15 to 17 ft below ground surface.
The challenge
The work began several months after the originally anticipated start date due to a delay in necessary permits issued to the owner. This shifted the overall project into fast-track mode. Additionally, the owner needed to balance maintaining full hospital access and the needs of patients with ongoing construction activities.
The solution
To meet loading requirements, the geotechnical engineer recommended drilled shaft deep foundations. Keller installed the shafts with column piers supported on single shafts or a shaft grouping, depending on specifications. Shaft diameters ranged from 36 to 60 in. and extended to depths of between 30 and 45 ft below ground surface. Nearly eighty 4000-psi reinforced drilled shafts were installed for the deep foundation work.
Project facts
Owner(s)
Sunrise Hospital and Medical Center
Engineer(s)
Western Technologies Inc.