Keller completed the project safely and on time despite limited work areas in this congested, high-traffic location. This project received ENR's 'Best of the Best 2018' award in the Landscape/Urban Development category.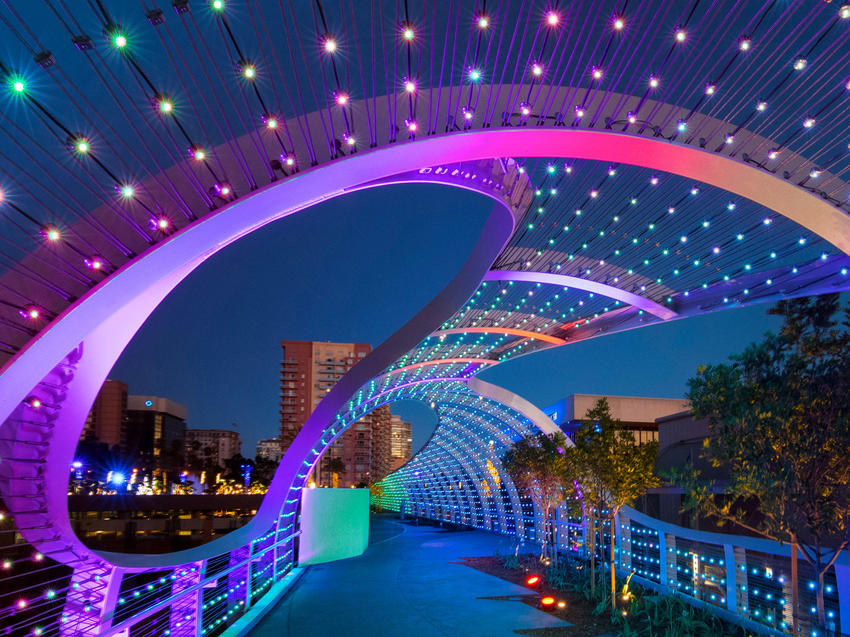 The project
Constructed 25 ft above an at-grade roadway, Seaside Way Pedestrian Bridge is a 600-ft-long structure that connects the Long Beach Convention Center and Long Beach Performing Arts Center. The bridge consists of six continuous spans and two cantilever ends supported by seven, 5-ft-diameter reinforced concrete columns in turn supported on 7-ft-diameter drilled shafts. Site soils were sands with a very shallow water table.
The challenge
Achieving a geometrically complicated, very precise design, coordinating all the construction elements, and working safely in a high-traffic area were the owner's primary challenges.
The solution
For each at-grade drilled shaft location along the bridge alignment, Keller used a 96-in.-diameter oversized construction safety casing (CMP) to stabilize the upper portion of the 84-in.-diameter drilled shaft. Drilling of the shaft to tip elevation at 45 ft below working grade was accomplished under polymer slurry. A reinforcing cage was placed for the full length of the pile and concrete tremied in to displace the slurry and complete the pile. Despite limited work zones in this high pedestrian and vehicular traffic area, the project was completed safely and on time.
Project facts
Main contractor(s)
Powell Constructors, Inc.