Keller completed construction ahead of the owner's schedule and assured quality with nine post-construction Cone Penetration Tests (CPT).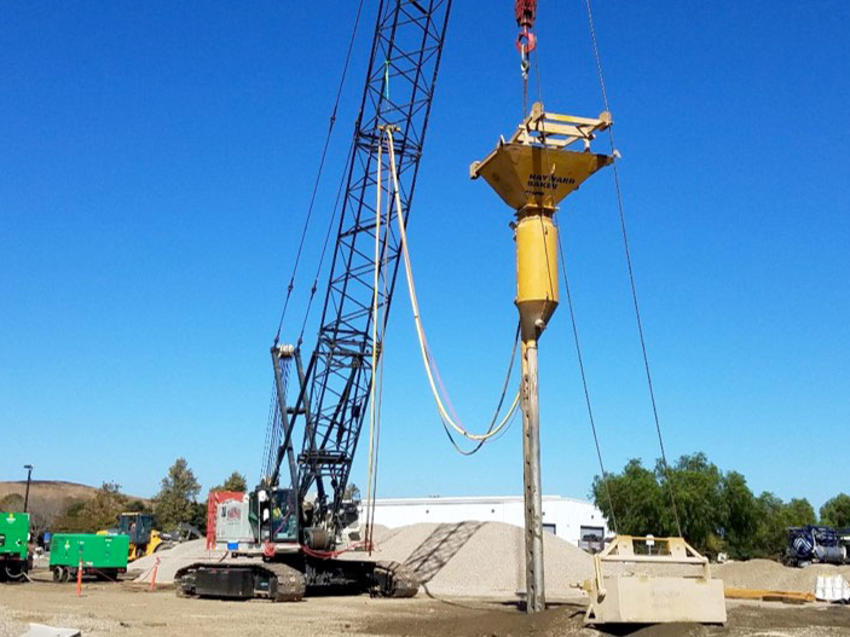 The project
The project involved the design and construction of a fully automated, sustainable, and reliable recycled water pump station. The 15,000-square-foot pump station was designed to service existing demands with the capacity to add additional pumps to accommodate future demands and system changes. The soil profile at the site included a layer of poorly to moderately consolidated alluvial material consisting of silts and sands that were susceptible to liquefaction during an earthquake. The potential liquefaction-induced settlement ranged from seven to nine inches.
The challenge
The soils underlying the site needed to be improved or treated to reduce the settlement caused by static loading from the new construction and to reduce the potential for liquefaction-related settlement in case of an earthquake. Existing buried utilities had to be considered in the selection of the ground improvement method.
The solution
Vibro replacement stone columns were chosen to mitigate the risk of liquefaction-induced settlement and to improve the bearing capacity of the soils at the site. Keller worked around live utilities with caution, while imparting adequate energy and material to meet the post-construction settlement criteria.
Keller turned an issue into no problem at all, applying a cost-saving solution to avoid future post-construction liquefaction induced settlements. CDM Constructors, Inc. is very pleased having worked alongside Keller and looks forward to future projects together.
Senior Project Manager, CDM Constructors, Inc.
Project facts
Owner(s)
City of Oceanside, California