Keller completed the project ahead of schedule by utilizing two vibro replacement rigs simultaneously in an excavation just above the water table.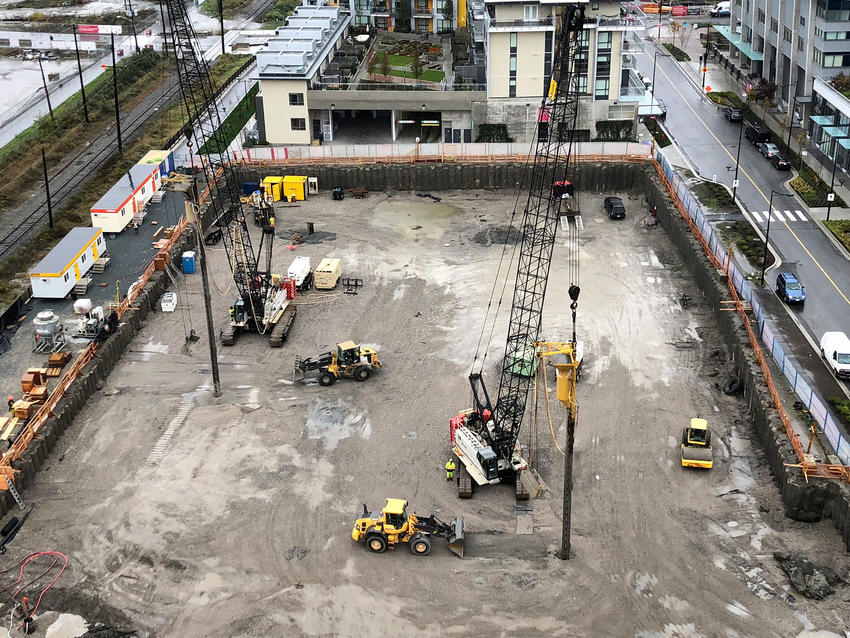 The project
River District is a residential development standing 25-storeys tall on a 6-storey concrete podium including 3-storey townhouses with underground parking. Keller was called back for Phase 2 to improve subsurface conditions to facilitate the construction of the residential building structures.
The challenge
The main challenge was the construction schedule. Working in an excavation with two cranes, just above the water table adjacent to Fraser River, required skilled workmanship and thorough communication between workers and client to ensure the work was completed safely and on schedule.
The solution
Proper work platform and dewatering well points were established by Wesgroup for vibro replacement densification work. This contributed to a smooth and safe working environment. Thus, stone column production was completed ahead of schedule. Keller installed 800 stone columns up to 16.5 m deep. Grout was injected in 200 of the stone columns to form cemented stone columns to further improve the ground for the construction of the structure.
The installation went smoothly and efficiently. The installation was a great success. Thanks to you and your team for the professionalism and service you provided (once again) to our project.
Project Manager, Wesgroup Contracting Ltd.
Project facts
Owner(s)
River District Parcel 18.2 Developments Ltd.
Engineer(s)
GeoPacific Consultants Ltd.