Keller overcame difficult ground conditions to complete work safely within client's compressed schedule.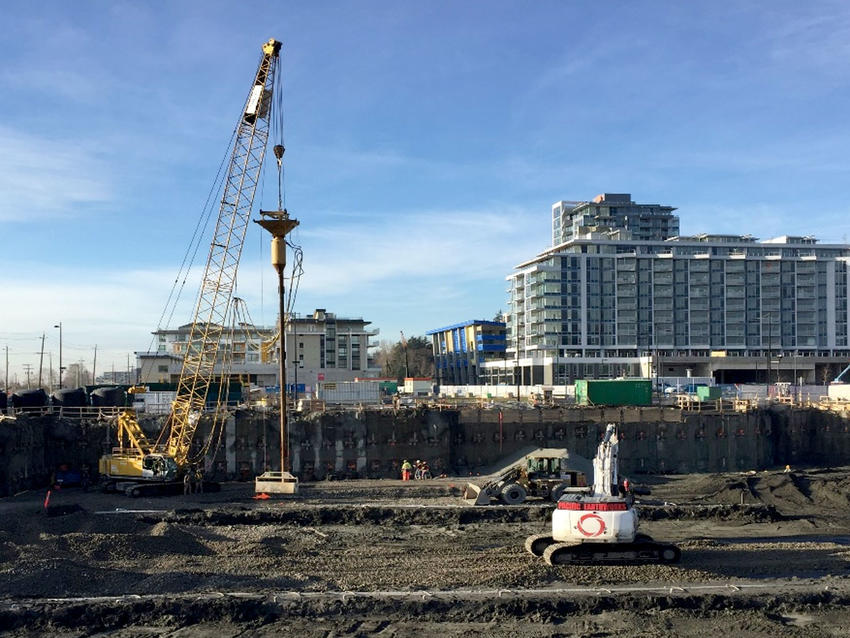 The project
Vancouver has steadily increased in popularity for its beautiful waterfronts and mountain views, which is why organizations like Wesgroup flock to develop on abandoned logging sites down the Fraser River. River District is one of the newest developments offering a "complete community" including groceries stores, entertainment, and a combination of luxury and affordable high-rise apartment living. Keller performed the ground improvement solution to help the contractor combat subsurface conditions.
The challenge
Project site was adjacent to the Fraser River where subsurface conditions consisted of unconsolidated river sediments. The main challenge was accessing and working in spatially limited excavations inside vertical retaining wall structures adjacent to the river.
The solution
Site logistics, safety, and environmental protection measures needed to be thoroughly planned, reviewed, and executed at each work location. An extensive dewatering program was required to ensure work could be completed within site constraints. Vibro replacement stone columns were installed at two separate site locations to achieve soils capable of resisting liquefaction in the event of a 1 in 2,475 year return period design earthquake. The system was made up of 815 x 900 mm diameter stone columns which improved subsurface conditions to facilitate the construction of multiple high-rise structures. Working in an excavation below the water table adjacent to the Fraser River required skilled workmanship to ensure work was completed safely and on schedule.
Project facts
Engineer(s)
GeoPacific Consultants Ltd.