Keller completed the sheet pile and helical pile installation in restricted access conditions safely and on time in a busy petrochemical facility.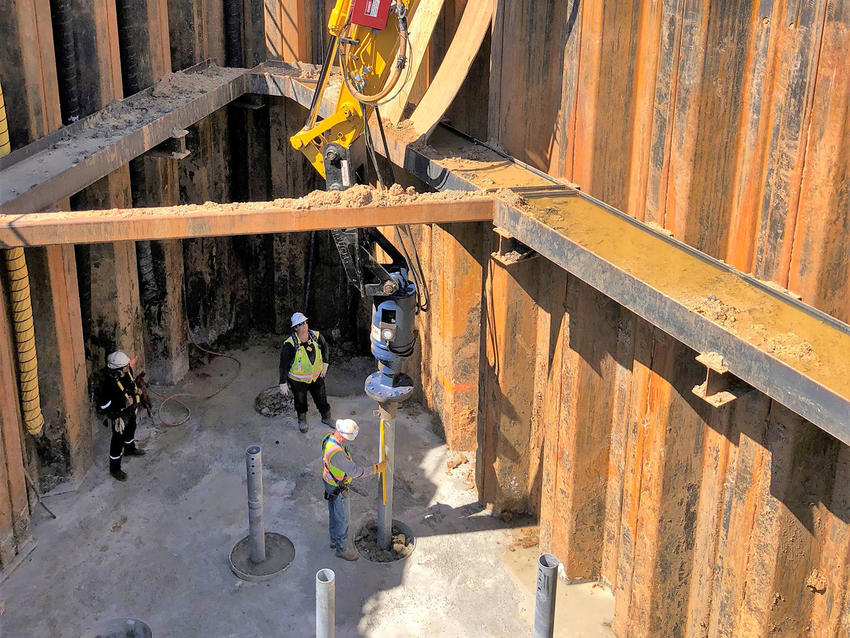 The project
The client added a new sump area and needed to support the new concrete sump floor. Along with the new addition, the client also required deep foundation support of new pipe bridges and supports and retrofitting existing supports (concrete bell piers) with new helical piles in the main corridor of the facility. The subsurface soils generally consisted of lean-to-fat clays in loose to medium soils 20 to 30 ft deep.
The challenge
Construction of the sump required earth retention to protect adjacent plant facilities. The system consisted of internally-braced sheet piles designed and installed by Keller. The elevation of the floor was located about 24 ft below the existing grade, which was to be excavated. The concrete sump floor was to be poured prior to helical pile installation. Due to difficult access constraints, the installation method was limited to working from the existing grade. Also, an existing clarifier tank adjacent to the new sump limited Keller's access around the sump. The location of all new and retrofit pipe support locations was located along a busy corridor within the plant, limiting the helical pile section, drive motor, and excavator sizes.
The solution
A combination of helical piles and sheet piles allowed for the construction of the sump. The project team worked with the general contractor and engineers to provide an alternate solution that met the original design load requirements.
Project facts
Main contractor(s)
Bayou City Industrial Contractors