Keller's value-engineered macropile alternative to the originally-specified drilled shafts significantly streamlined the overall foundation schedule.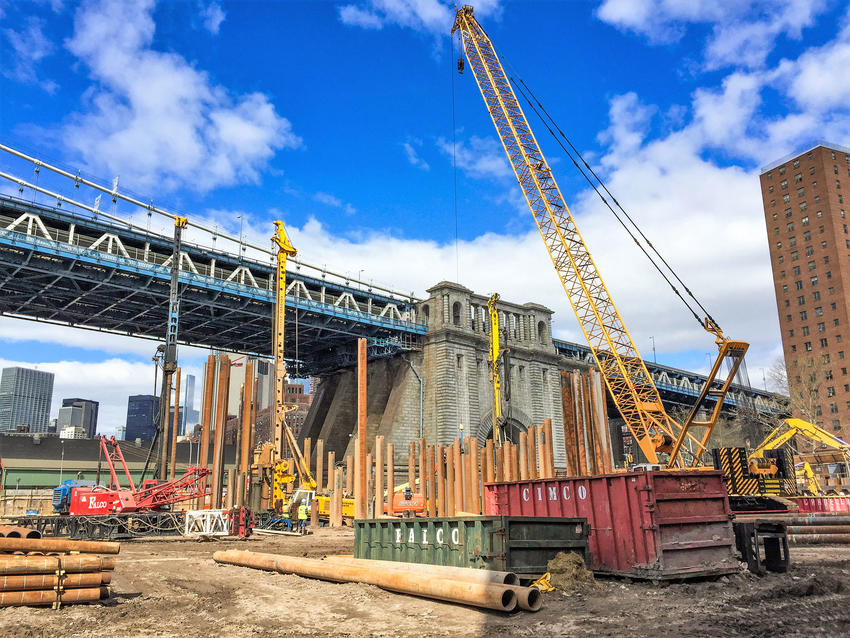 The project
One Manhattan Square is a 70-story residential high-rise constructed over a two- to three-story retail and parking podium structure that occupies most of the 95,000-sq-ft site. The podium is shared with a smaller residential tower constructed on the eastern portion of the site.
The challenge
The site is outboard of the historic shoreline of Manhattan and bounded by roadways and adjacent multi-story residential structures. Challenging subsurface conditions include a shallow groundwater table, varying amounts of construction debris, and highly variable subsurface conditions and depth to competent bedrock. The foundation system was required to resist large compression and uplift loads and meet stringent deflection tolerances.
The solution
Drilled shafts were specified for the tower foundations. However, Keller value-engineered a 24-in.-diameter macropile solution that met all technical performance requirements and streamlined the overall foundation installation timescale. Macropiles are ultra high capacity foundation elements ideally suited to support heavy loads on tight access sites. The permanently cased macropiles were socketed into bedrock as much as 100 ft below working grade in a unique multi-step process combining duplex drilling with a down-the-hole hammer (DTHH) and vibratory methods. A static axial tension load test performed on a strain gauge-instrumented macropile demonstrated successful load transfer to the underlying bedrock.
Project facts
Main contractor(s)
Lendlease Corporation
Civetta Cousins JV, LLC