Dry soil mixing was used at the Missouri River Wastewater Treatment Plant to stabilize soft soils to protect against riverbank failure.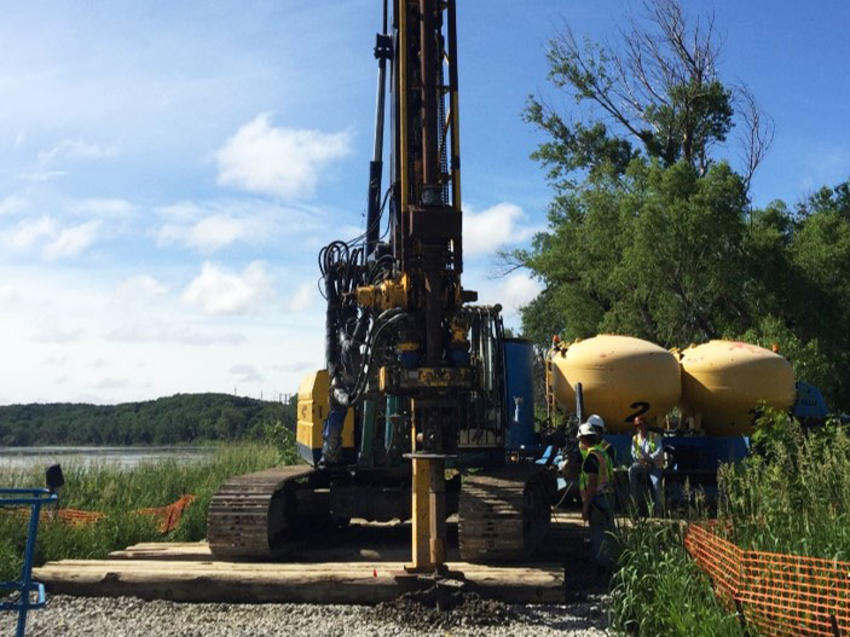 The project
After a riverbank slope failure threatened the infrastructure of the wastewater treatment plant along the Missouri River, a cost-effective ground improvement solution was designed. This involved panels of secant soilcrete columns installed through soft, saturated clay/silt to bearing layers to stabilize the riverbank and protect infrastructure.
The challenge
The dry soil mix operation within a confined workspace presented several challenges. Additionally, shortly after production began, previously unknown underground obstructions required adjustments to the operations to achieve the successful installation of the dry soil mix columns.
The solution
A pre-treatment drilling operation was quickly mobilized using both Keller and outside resources to facilitate the successful completion of the project. Dry soil mixing was used to treat 20 foot wide panels of soil along approximately 1,500 feet of riverbank to improvement depths as great as 70 feet. Using real-time data acquisition, the panels were installed through potential failure planes in the saturated silts and clays down to deeper bearing layers.
Project facts
Main contractor(s)
Bayshore Construction, LLC