During construction, Keller used multiple rock drilling techniques (reverse circulation bits, as well as downhole hammers) depending on the conditions encountered.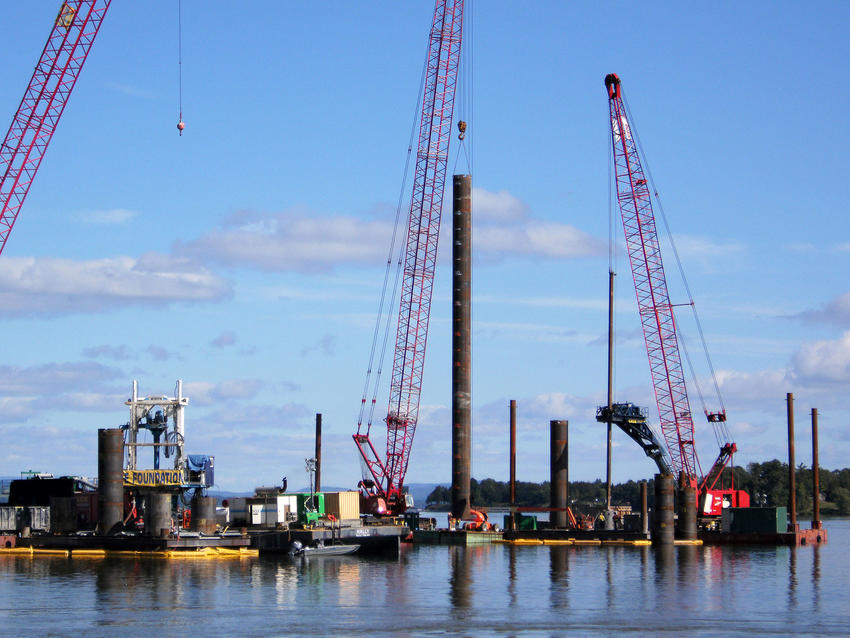 The project
The new, two-lane steel arch-span bridge replaced a structurally deficient, two-lane bridge that was demolished. Spanning Lake Champlain, the new 2,200-foot long bridge reconnects Essex and Addison Counties. Keller installed 32 drilled shafts, each with a diameter of 6 feet. The shafts ranged in depth from 30-100 feet with 5 foot 6-inch rock sockets and lengths from 10-20 feet.
The challenge
The high flow rates from our equipment required special spoil and water management techniques to satisfy environmental concerns. Another challenge was dealing with several shafts that were obstructed by pieces of the demolished bridge. Lastly, planning was needed to address significantly varying depths to rock.
The solution
The environmental concerns were successfully managed in accordance with regulations. Alternate excavation methods and tooling were developed to remove or cut through the bridge pieces to construct the foundations at the required locations. The rock sockets were excavated using either a 66-inch downhole hammer or a Wirth PBA 933 reverse circulation drill rig after the permanent casings were set into the rock. All of the concrete poured into the shafts was placed using tremie concrete procedures.
Project facts
Owner(s)
State of New York Department of Transportation
Engineer(s)
GZA GeoEnvironmental Inc.