Keller completed construction well ahead of schedule, allowing the completed bridge to open for traffic three months early.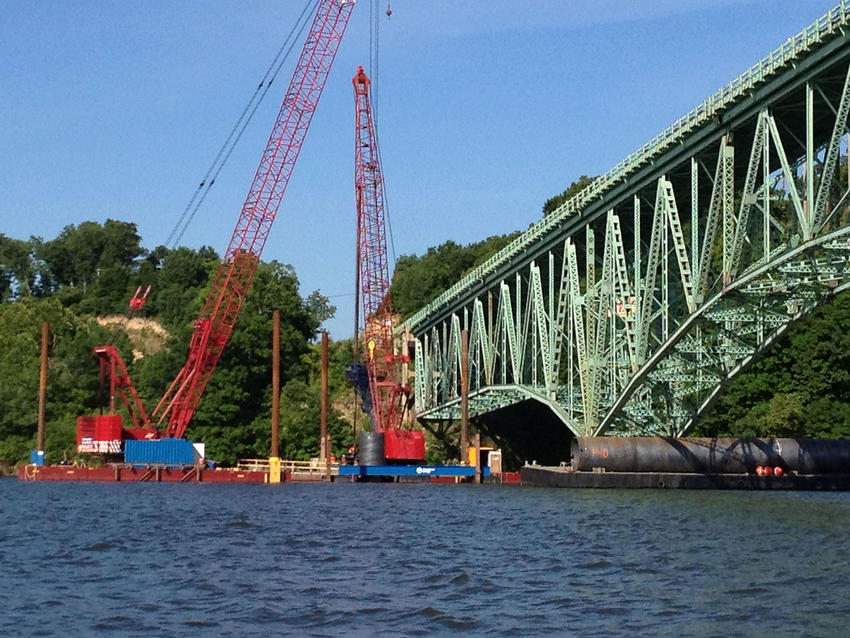 The project
Hurricane Deck Bridge is located on Lake of the Ozarks. The original bridge was completed in 1936, and MODOT deemed it was necessary to replace it. The Keller crew installed 14 drilled shafts, each with a diameter of 8.5 feet at depths of 120 feet to support the new bridge structure.
The challenge
The eight-foot diameter rock sockets were excavated with a Wirth Pile Top drill rig, mounted on top of 90 to 108-foot long permanent steel casing. This 60-ton drill rig was virtually sitting on top of a "flag pole" with very little lateral support.
The solution
Installation procedures included the placement of an 8.5-foot diameter permanent steel casing with carbide-tipped teeth through 85 feet of water, 20 feet of overburden, and twisted into rock. A floating template with sea anchors secured the top of the casing to help with the overall lateral stability. After underwater video inspection, full-length reinforcing cages were set and 4,000 psi high slump concrete was placed by tremie methods. Temporary closures to the bridge were conducted to allow concrete to be poured into the piers below.
Project facts
Owner(s)
Missouri Department of Transportation (MODOT)