Keller successfully stabilized the tanks without disconnecting and reconnecting the appurtenances (nozzles, ladders, etc.), saving the owner time and effort.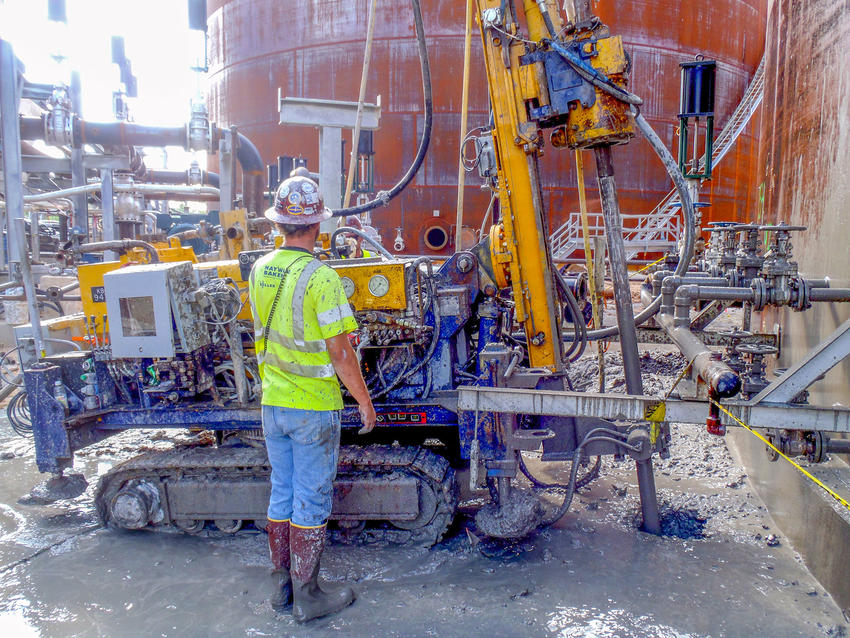 The project
As part of the Houston Fuel Oil Terminal Company's crude oil expansion program, two new 110-ft-diameter fuel tanks, each supported on a ring beam, were installed in Area 23. Both tanks experienced settlements that exceeded American Petroleum Institute (API) limits during hydro-testing.
The challenge
The existing site soils consisted of 20 ft of variable cohesive and granular fills with obstructions. The cause of the settlement was attributed to the consolidation of a 2-ft-thick stratum of the fill material located at 10 to 12 ft below grade.
The solution
The owner was aware of Keller's capabilities from previous successful tank-related projects and approached Keller for a design-build remediation solution that would correct the immediate issue and prevent future settlement. To achieve this, Keller designed and installed two concentric rings of 5-ft diameter tangent jet grout columns to improve the soils beneath the bearing rings of each tank. Vertical and battered columns were installed to ensure the tanks would meet API settlement criteria. The jet grout columns extended from the underside of the ring beams to a competent bearing stratum at approximately 20 ft below grade. The stabilized soilcrete mass formed was capable of withstanding the lateral earth pressures and the surcharge load from each tank.
Project facts
Owner(s)
Houston Fuel Oil Terminal Company