Keller's operational excellence resulted in the completion of the ground improvement program a week ahead of the general contractor's proposed schedule.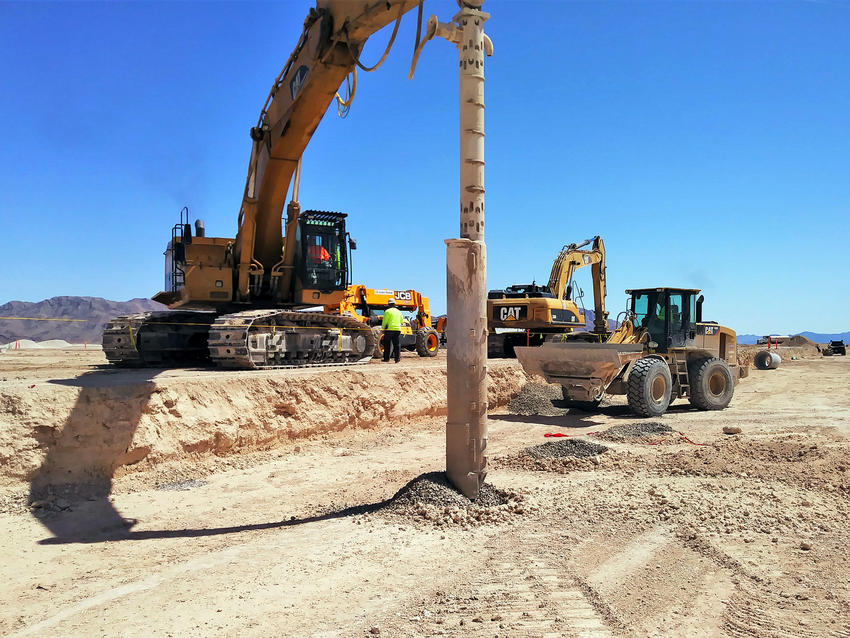 The project
Developer and asset manager VanTrust Real Estate LLC developed a 120-acre parcel of land in North Las Vegas aimed at constructing a number of 'build to suit' big-box distribution centers. An e-commerce client leased an 855,000 ft2 portion of the site for a new multi-story facility, its fourth in the Las Vegas area. Soils in the upper 30 ft of the building footprint consisted primarily of clay with silt, gravel, and intermittent caliche layers of varying thickness.
The challenge
Given the heterogeneous soil conditions, ground improvement was required to limit structural differential settlement potential. Additionally, the owner's demanding schedule required completion of the building in nine months.
The solution
Between 5 to 10 ft of structural fill was placed over the building footprint to the finished floor elevations. Keller installed nearly 5,000, 30-in.-diameter vibro piers below shallow footings and peripheral wall locations to provide an allowable static bearing pressure of 7,000 psf.
Project facts
Main contractor(s)
Layton Construction Company, LLC
Engineer(s)
NOVA Geotechnical & Inspection Services
HSA & Associates