Keller mobilized and completed soilcrete block installation within one week to stabilize wet silty sand and allow a utility tie-in to be constructed between two shafts.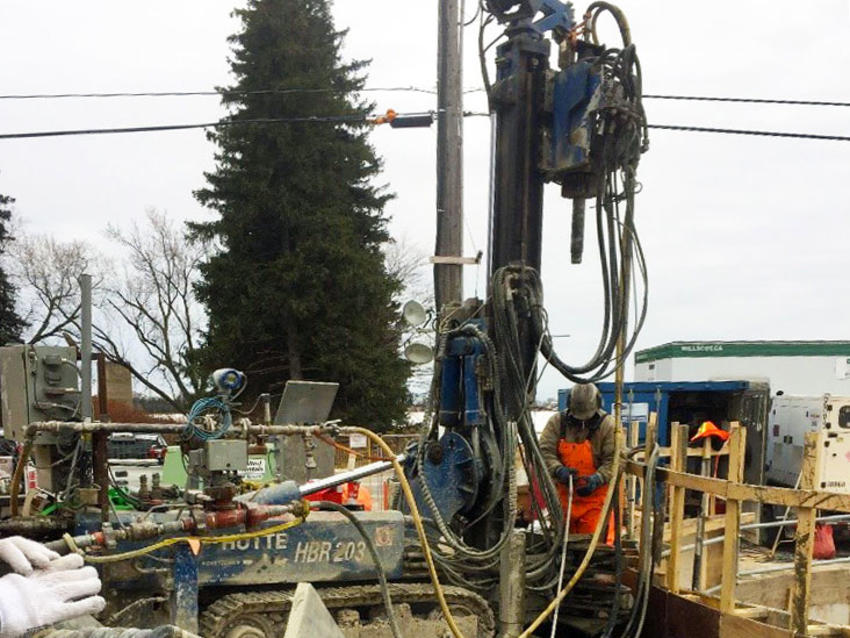 The project
The Fairtree Sewage Pumping Station in Markham required upgrades to support new developments and infrastructure in the area. The proposed upgrade consisted of a new pumping station with wet and dry well shafts and a utility connection below grade between the two shafts.
The challenge
Soil conditions consisted of non-cohesive deposits ranging from wet sand to silty sand with the groundwater table 4 m below existing grade. These conditions made it impossible to use traditional tunneling methods to create the utility connection. Furthermore, with winter quickly approaching, the tie-in needed to be installed quickly to avoid costly cold weather construction costs.
The solution
Keller constructed a low-strength, water-tight soilcrete block to allow the tunnel contractor to mine through the shafts safely and economically. To avoid winter construction, Keller mobilized and completed the work within one week of authorization to proceed. The installation process was monitored in real-time using Keller's DAQ system. Each column was surveyed for alignment and deviation. An acoustic column inspector (ACI) was used to establish jet grouting parameters and confirm column diameters.
Project facts
Owner(s)
The Regional Municipality of York, Ontario
Main contractor(s)
Ward & Burke Construction Ltd