Keller provided a design-build solution to quickly and economically repair a failing block wall and stabilize the store while allowing the facility to remain operational.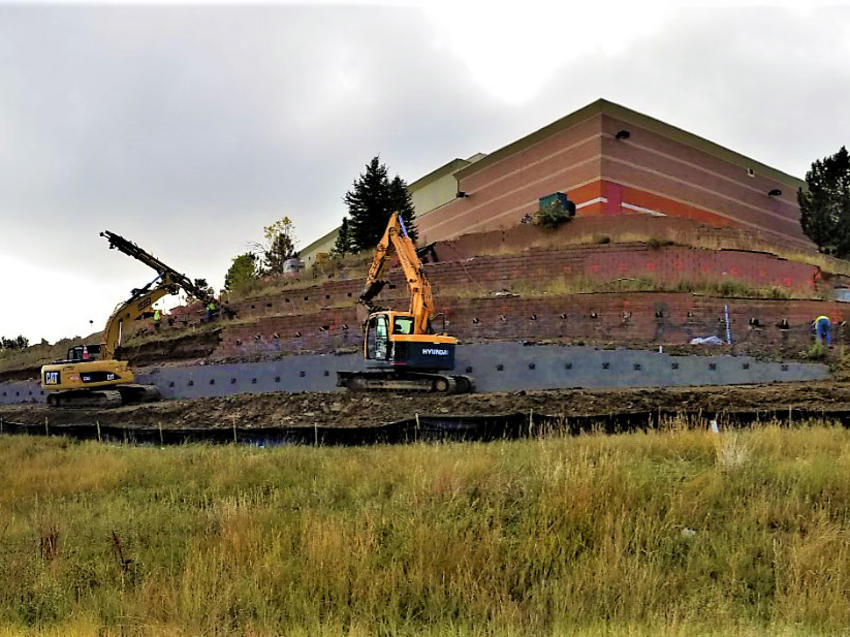 The project
An existing modular block four-tier retaining wall in the back of a strip mall was compromised due to a broken water line. The running water saturated the soil behind the retaining wall, causing settlement and failure of a portion of the wall. The wet soils also resulted in the settlement of the shopping center's anchor store. Approximately 4,000 square feet of block wall on an acre footprint required stabilization.
The challenge
The owner required a solution to stabilize the existing block wall and the store that was both economical and aesthetically pleasing while the store remained operational. The wall backed up to a residential neighborhood where construction noise would cause public disturbance, requiring special attention to detail.
The solution
Keller developed a solution consisting of soil nail walls constructed directly in front of each of the existing block wall tiers and stained with a decorative and sculpted shotcrete finish. Because the building experienced several inches of post-construction settlement, Keller used compaction grouting for approximately 50,000 square feet of slab on grade to densify the soils down to bedrock to arrest future settlement.