Keller performed a first-of-its-kind testing program to verify the load capacity required of the tangent bearing elements (TBEs) for one of the tallest buildings in South Florida.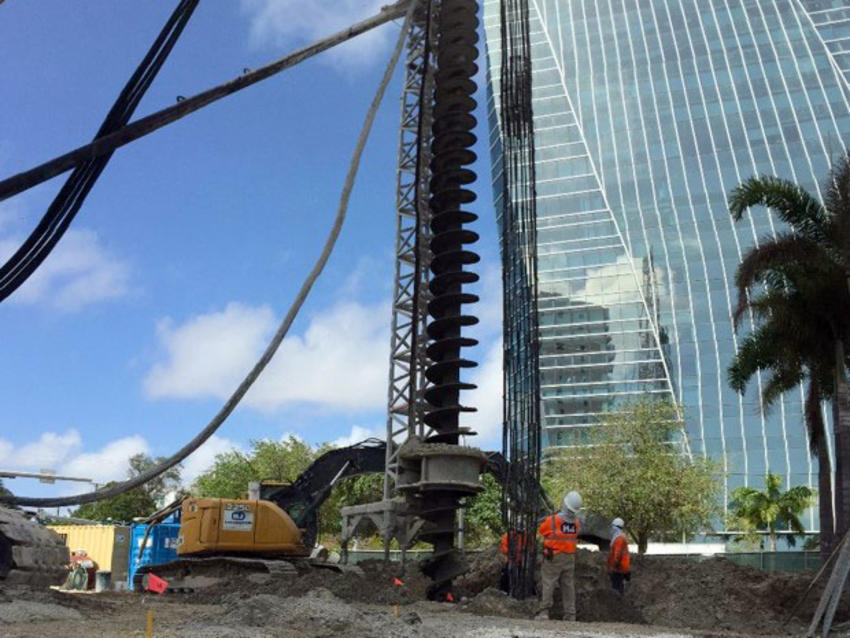 The project
Echo Brickell is a 57-story building including 5-star restaurants, retail space, infinity pool, luxury condominiums, and a penthouse suite – all on a 16,000 sq ft footprint. The original drilled shafts system was over budget with a long schedule. HJ Foundation provided an alternative deep foundation solution within the budget and required time frame.
The challenge
Keller's engineering team worked with the geotechnical and structural engineers to design-build a Tangent Bearing Element (TBE), a new foundation element developed by Keller a few months prior to the beginning of the project. A TBE is a group of auger cast piles drilled tangent to one another, providing a load capacity similar to other foundation elements with bigger cross-sections.
The solution
Working with new technology, such as TBEs, always has its risks. Consequently, the City of Miami required an extensive first-of-its-kind test pile program, including constructing pile caps for groups of two and four piles. After self-performing the entire test pile program, we demonstrated that TBEs performed better in Miami limestone than a drilled shaft had on previous high rises. We completed the project by installing over 150, 36-in.-diameter piles to depths of 122 ft below grade ahead of schedule and without any injuries.
Project facts
Main contractor(s)
John Moriarty and Associates
Engineer(s)
NV5 Global, Inc.
CHM Structural Engineers LLC