Keller successfully completed the drilled shaft installation five weeks ahead of schedule with no safety incidents despite adverse site logistics.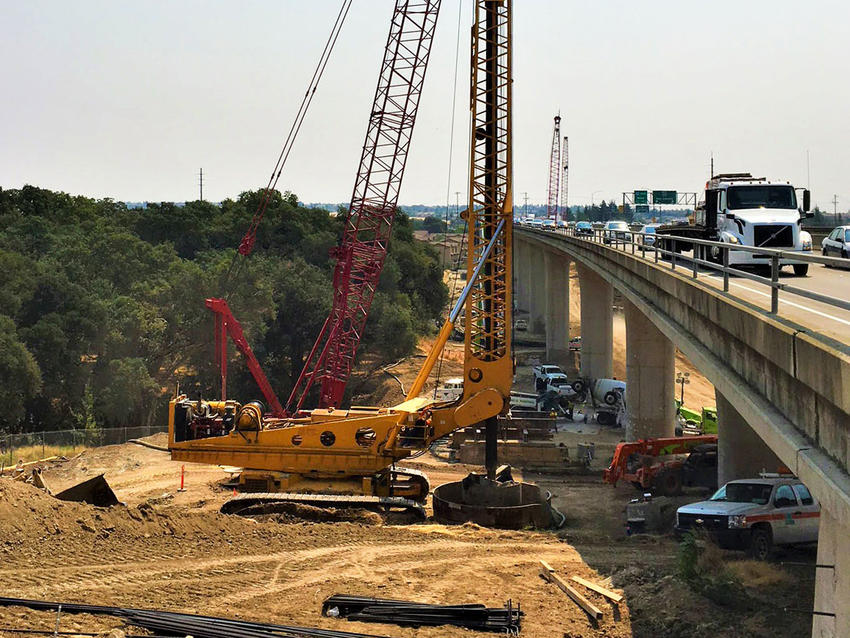 The project
The California Department of Transportation (CALTRANS) undertook the northbound expansion of the East Roseville Viaduct, a 2,000-ft-long structure on State Route 65. The project was designed to alleviate traffic congestion and improve safety. Site soils along the expansion consisted of sandy silts and sandy clays overlaying claystone bedrock.
The challenge
Constructability challenges included significant gradient changes; live Union Pacific Railroad tracks and an apartment building within and adjacent to the expansion area; overhead power lines in some locations; and potential adverse environmental effects from construction processes to the flowing riverbed of Antelope Creek, which was within the expansion area and also lies within Lassen National Forest.
The solution
11-ft-diameter drilled shafts were specified to support 13 bents required for the new roadbed. Keller drilled the shafts to a design depth nearly 113 ft below working grade within the temporary 15-ft-diameter casing. Each shaft required a temporary 12-ft-diameter, 32-ft-long corrugated metal collar in the upper portion to allow safe access to the construction joint between the pile and the bent. The owner required the installation of a 14-ft-diameter permanent steel isolation casing in seven shafts. The foundation work was safely completed despite challenging site logistics.
Project facts
Owner(s)
California Department of Transportation
Engineer(s)
California Department of Transportation