Keller provided a turn-key liquefaction mitigation ground improvement solution, allowing the client to begin above grade construction immediately after completion of our work.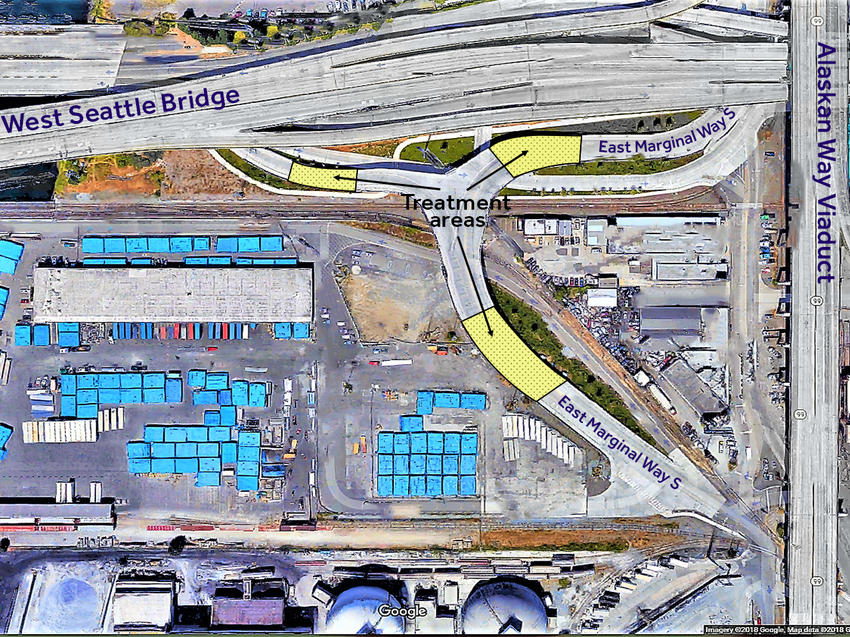 The project
The City of Seattle experienced traffic congestion related to the Alaskan Way Viaduct, Spokane Street bridges, on-grade railroad tracks, and additional surface roads. A three-way highway ramp called East Marginal Way was constructed to alleviate traffic congestion. Soil conditions consisted of deep deposits of liquefiable sands.
The challenge
Because of the high seismicity and loose sand conditions, this site was susceptible to significant liquefaction hazards, including bearing capacity reduction and excessive settlement. Mitigation of the liquefaction-related hazards was required prior to ramp construction.
The solution
Keller designed and installed an earthquake (EQ) drain solution to mitigate the liquefiable soils to a depth of 80 ft beneath the 30,000 SF treatment area. Special care was taken to avoid installation-related settlement as the drains were located directly adjacent to the existing railroad tracks. Following the EQ drain installation, Keller was responsible for the pore pressure relief stone reservoir placement, geotextile installation, and final site grading.
Project facts
Owner(s)
Washington State Department of Transportation
Main contractor(s)
Mowat Construction Company