Keller completed this project that was scheduled to take 2 years in just 18 months.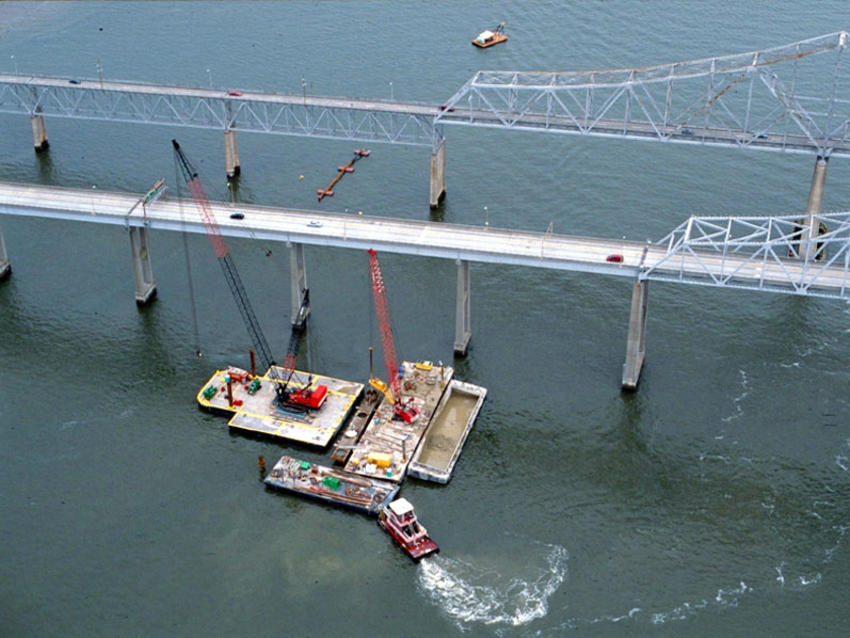 The project
Massive drilled shafts were installed for SCDOT's Cooper River Bridge Replacement Project. The project connected the cities of Charleston and Mount Pleasant. The new bridge provided many benefits: increased roadway capacity, improved safety, reduced major bridge maintenance and increased navigational clearances to accommodate vessels on the river.
The challenge
This operation required extraordinary coordination and careful handling of the surrounding environment, consisting of land, water, barges, and trestle. Site access was also a challenge as work was performed on a barge, on a trestle, and on land.
The solution
Keller installed the foundation shafts for the largest cable-stayed span in North America, stretching 1,546 ft between the Charleston peninsula and the town of Mt. Pleasant. The drilled shafts installed were the largest in the Charleston area, featuring up to 12 ft diameter shafts with depths up to 240 ft requiring up to 745 cy of concrete. Permanent casing weights were up to 100,000 lbs and reinforcement steel cages neared 200,000 lbs. A total of 414 drilled shafts were installed: 90 in water, 30 on the trestle, and 294 on land.
Project facts
Main contractor(s)
Palmetto Bridge Constructors