The Colton Crossing project allowed for grade separation between Union Pacific and BNSF. Keller designed and installed ground improvement to support the new fill walls.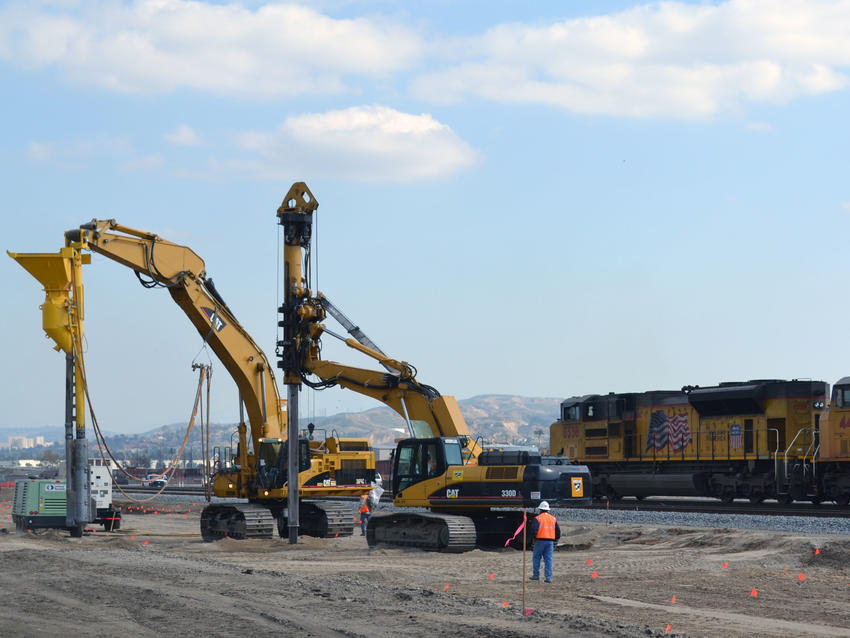 The project
The Burlington Northern Santa Fe (BNSF) Railway and Union Pacific Railroad (UPRR) rail-to-rail Colton Crossing, was one of the busiest at-grade rail crossings in the USA. Eliminating the congestion required multiple mechanically stabilized earth (MSE) walls and gravity walls for grade separation. The flyover consisted of a 6,672-foot-long, 48-foot-wide precast and cellular concrete structure.
The challenge
Subsurface investigations indicated near-surface fill soil and alluvial soil were loose to very loose and considered to be collapsible. Anticipated settlements exceeded three inches. There was also concern the flyover structure could be damaged as a result of the seismic settlement.
The solution
The estimated settlements could be reduced to acceptable values by both reducing the loads and improving the ground. Dry bottom feed stone columns were constructed beneath cellular concrete to increase bearing capacity and reduce settlements of the existing soil. During construction, Keller maintained strict adherence to UPRR safety requirements.
Project facts
Owner(s)
Union Pacific Railroad (UPRR)