When unexpected movement and ground disturbance occurred following drilled shaft installation, Keller performed preventative grouting to keep the project on track.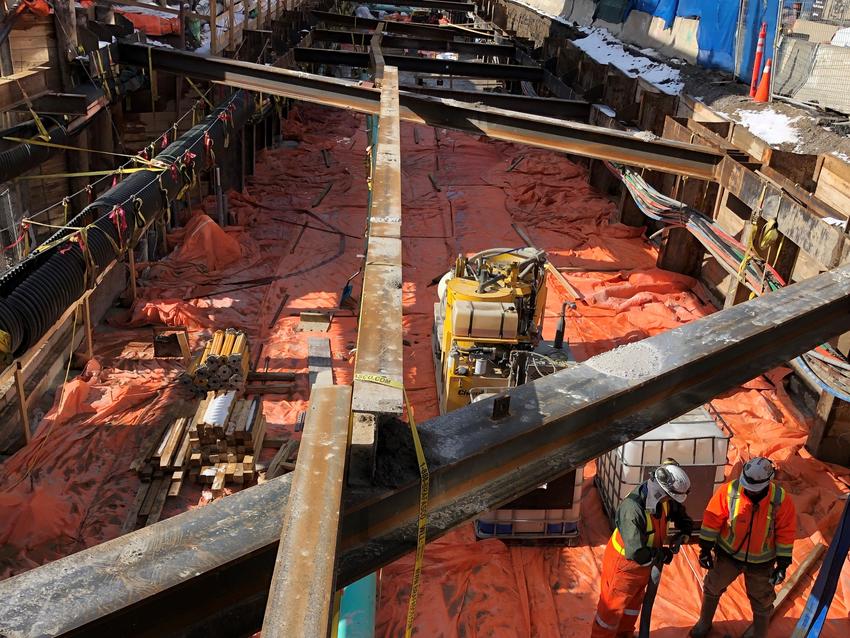 The project
Chaplin is a new underground station for the Eglinton Crosstown LRT, part of the Toronto subway system. As others installed drilled shafts, unexpected soil conditions on one shaft led to severe sand caving and disturbances. The general contractor proposed a preventative grouting program to ensure that the adjacent shafts, critical to project completion, were founded on adequate soils with appropriate bearing capacity.
The challenge
The owner set a strict project schedule, and grouting had to be done within a tight window to get the project back on track.
The solution
Grouting would stabilize the soil around two drilled shafts without causing excessive movement or soil fracturing. A cementitious grout mix was injected via multiple port sleeve pipes under high pressure from the underside of the shafts to approximately 9.8 ft (3m) below the underside of the shaft. A total of 244 cubic ft (6.9 cubic meters) of grout were injected at eight grouting locations with five grouting ports per location.
Keller evaluated grout takes, pressures and movement monitoring to determine if further grouting was required, but the initial preventative grouting program proved successful in stabilizing the shafts and allowing construction to continue.
Project facts
Main contractor(s)
Crosslinx Transit Solutions Contractors