Keller provided a design-build solution of a circular secant pile wall to retain earth and aid excavation.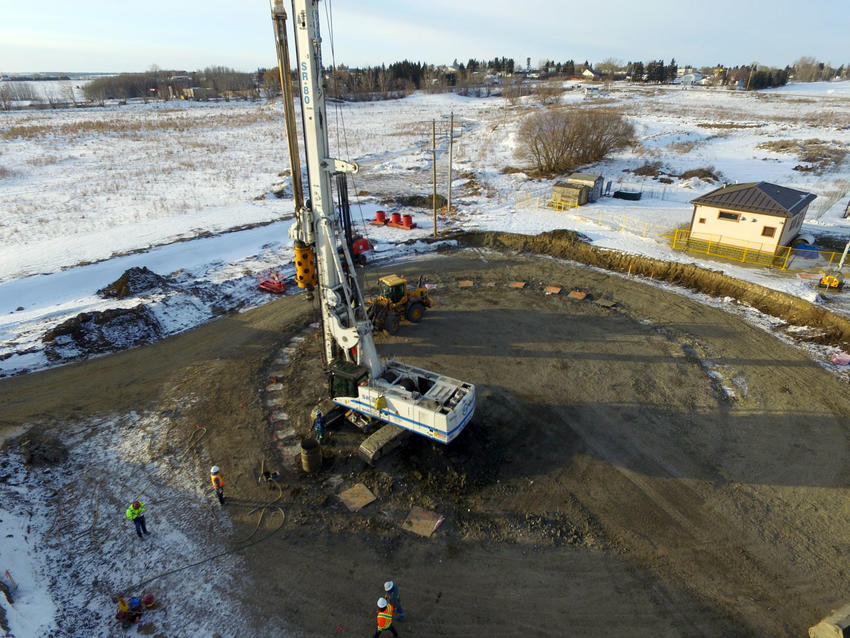 The project
The North Red Deer Regional Wastewater Services Commission announced the construction of a wastewater pipeline to connect the City of Lacombe, the Town of Blackfalds, and Lacombe County to the regional water treatment facility. Keller provided the design-build circular secant pile wall for the Blackfalds Lift Station.
The challenge
The verticality of the secant piles was critical to avoid any gaps in the wall that could have compromised the structural integrity and allowed water infiltration. Keller proposed segmental casing as the optimal installation method and was awarded the project based on previous successful work with the main contractor, construction methodology, and meeting budget requirements.
The solution
Keller design-built a circular secant pile wall with an excavated diameter of 26 m and retained height of 7 m. The system formed a compression ring wall to retain earth and aid excavation for the utility lift station. A scalloped cast-in-place guide wall was constructed to lock the piles together at the top of the wall. All piles were checked for verticality. Sequence planning was critical, as crews worked in a Monday to Thursday rotation cycle. Keller's construction methodology eliminated pile kick-off risk associated with three days between pile construction.