Keller designed and constructed temporary shoring to support temporary railroad relocation (shoo-fly lines).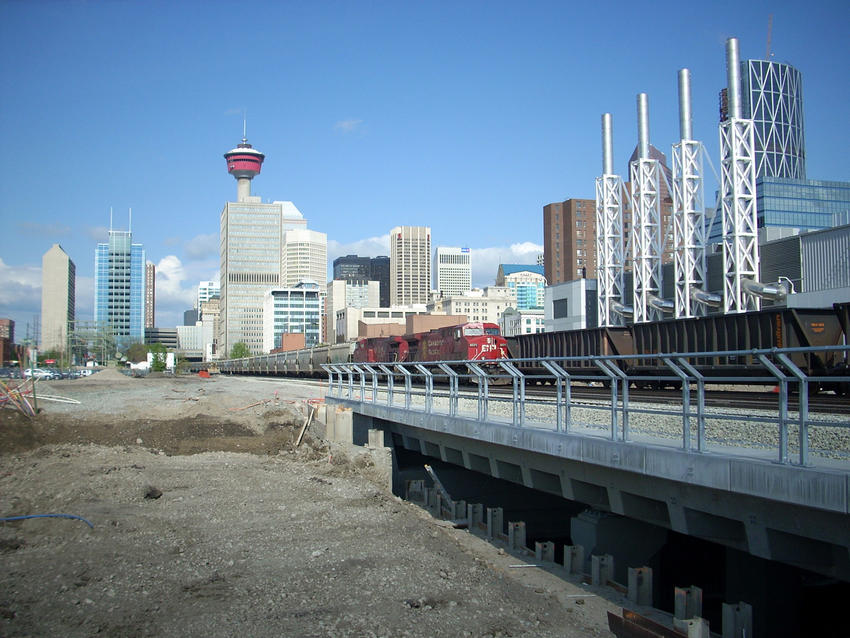 The project
As part of Calgary's effort to revitalize the downtown core, this underpass project was instrumental in tying the Saddledome Arena district to the East Village. This work allowed increased access to the area for both vehicle and pedestrian traffic.
The challenge
Keller had to coordinate with other contractors that were hired to fit out the lift station, immediately beside the worksite. There were two main challenges; avoiding utilities and schedule changes. The project was interrupted twice during the realignment of the Canadian Pacific shoo-fly work.
The solution
The overall project scope consisted of installing a secant shoring system as well as a structural foundation system over an 8 month period. This was completed with the design and use of a temporary shoo-fly. Keller supplied and installed 180 piles ranging in diameter of 2400mm to 880mm and depths up to 14m for the bridge and abutment structures. Keller also designed and installed the foundation elements for the adjacent lift station. Extensive pre-planning and attention to public safety, along with detailed coordinating with the rail lines to avoid disruption, was key to success. Keller worked with our client to minimize impact and bring the project back on schedule.