Our team responded to the emergency quickly and began work within days of the collapse. We found the optimal solution that reduced impact to the surrounding neighborhood and railroad track.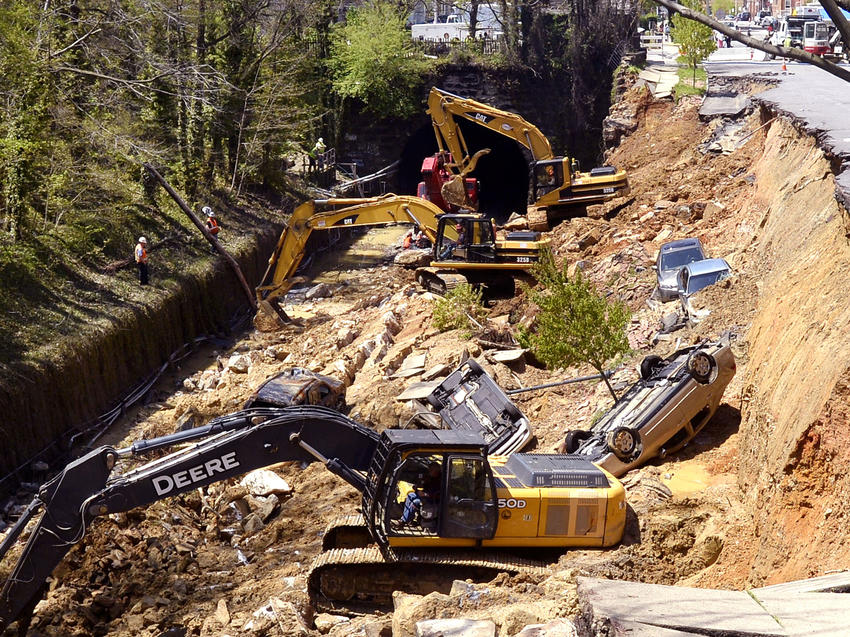 The project
On April 30, 2014, a century-old stone masonry retaining wall failure occurred after heavy rains. One lane of East 26th Street, the sidewalk, 8 parked cars, light poles, trees, and tons of soil slid approximately 40 feet covering the adjacent train tracks below with debris. The collapse was caught in a dramatic video and broadcast nationally.
The challenge
The catastrophic collapse of the retaining wall posed an immediate threat to the adjacent street and homes. With limited knowledge of the existing subsurface conditions and geometry of the retaining wall, the project team needed to quickly design and safely install an earth retention system.
The solution
Keller constructed a temporary, anchored soldier pile and lagging earth retention system to stabilize the street and homes. The soldier pile wall was located near the top of the failure plane of the soils, allowing for removal of the debris and construction of a permanent concrete retaining wall.
Project facts
Owner(s)
City of Baltimore Public Works
Engineer(s)
Whitman, Requardt & Assoc., LLP