Keller installed 63 belled caissons in just two weeks to support the new outfield bleachers.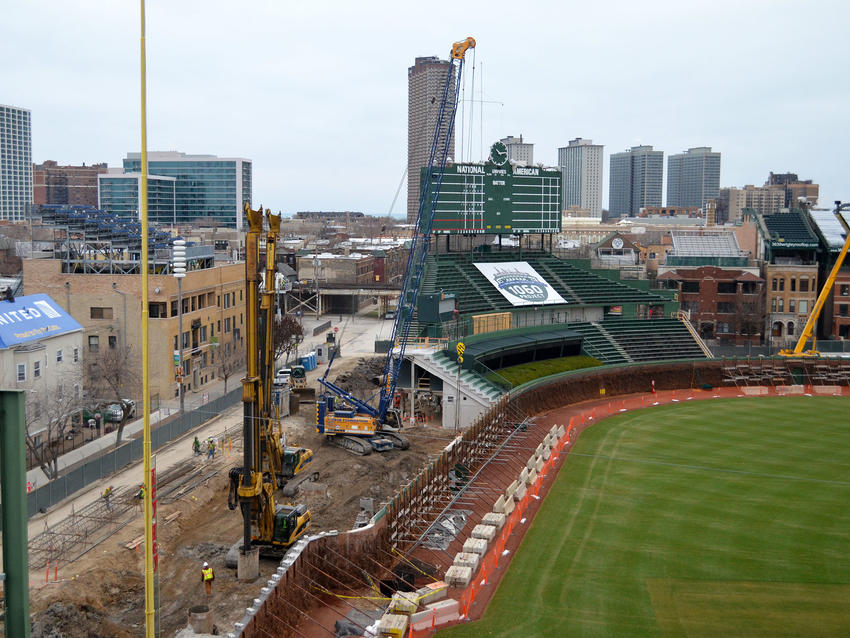 The project
Wrigley Field's 1060 project included an improvement and expansion of the bleachers. Improvements included 300 seating positions, historical displays, new concession stands, and group terraces. Keller laid drilled shaft foundations for the new outfield bleachers.
The challenge
Six belled caissons were installed as top of rock caissons due to water-bearing ground conditions at the original bearing elevation approximately 70 feet below grade. Each top of rock caisson was founded on the surface of the limestone bedrock, approximately 90 feet below grade and utilizing 50TSF bearing capacity.
The solution
Using two IMT 220 drill rigs and a BG39 drill rig, Keller completed the installation of 69 caissons supporting the historic Wrigley Field outfield bleachers. A total of 63 belled caissons were installed with shafts ranging from 3 to 6 feet in diameter and bells ranging from 6 to 15 feet in diameter. Belled caissons were founded on hardpan approximately 45 to 50 feet below grade.
Project facts
Main contractor(s)
Pepper Construction Company