Keller was able to fast track the project schedule by implementing double shifts with one crane and one drill.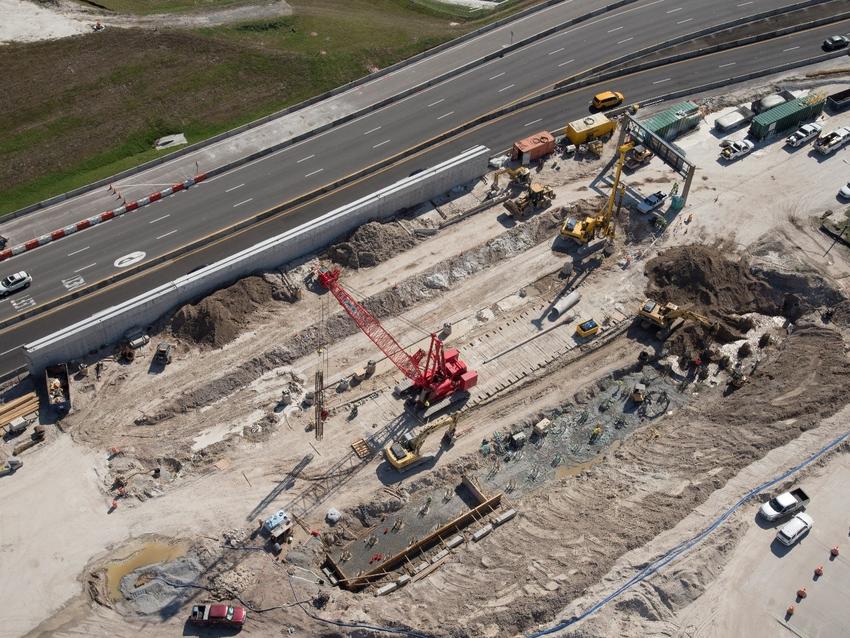 The project
At Tampa International Airport, the existing Taxiway J bridge that went over the John Bean Parkway public access road into the airport needed to be replaced. This took place in a 3-phase process of demolition and reconstruction. We successfully worked with the General Contractor to clear the working area of existing foundations before beginning our drilled shaft installation.
The challenge
Soil conditions included sands and porous limestone that required dewatering. Because of this, the contractor had a continuous French drain to dewater the site and create mostly dry conditions. Keller had limited height restrictions, however this did not interfere with our operation.
The solution
Keller installed 133 drilled shafts ranging in diameter from 42 in. to 48 in. and to depths of 35 ft using temporary casings and natural slurry. The operation worked in 200 ft by 35 ft cut down areas (5 to 6 ft below natural grade) per phase of work. One method test for each shaft diameter was performed. Mandatory CSL Testing was completed successfully and ahead of schedule.
Project facts
Owner(s)
Hillsborough County Aviation Authority
Main contractor(s)
Cone & Graham, Inc.
Johnson Bros Corporation